Welcome to my page about Morocco holiday packages!
I'm Omar Bakabou, and I'm going to tell you some important aspects of the story of my life. So, you will get to know me a little more and understand my journey from being a desert boy to working in tourism.
I was born in 1985 in the middle of the Sahara desert in a Moroccan Berber village called Ouatara close to the border with Algeria. After 5 years of living there, my family moved to the city of Rabat, the capital of Morocco, where my father found a job. In the desert, there was no work because of the drought since it didn't rain, and life was very difficult.
We arrived in Rabat unaware that there was such a big city and it was difficult to adapt to this great urban center coming from such an isolated place in the desert. Later, I returned to my village again where I had left my dear friends.
I started to accompany my uncle working as a shepherd of goats, sheep, and camels. This was a good experience but when I turned 7 years old I was forced to return to Rabat to study. Getting to the big city was again a tough process, without even knowing how to speak Arabic. At school, it was difficult at first, but after meeting new friends things start to ger easier for me. Every summer vacation I went back to the desert to help my grandparents and uncles with agriculture and animals.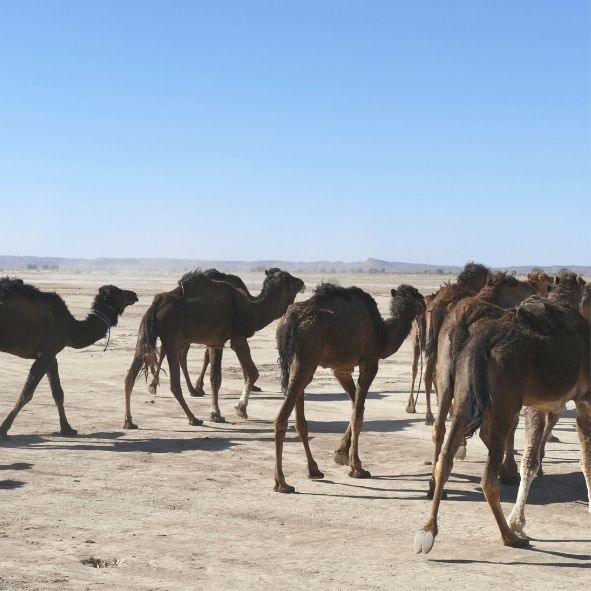 In Rabat, I ended up studying until college where I took an Arabic Literature degree. After finishing my studies, I realized that I don't like to stay in one place and would like to move around more, and so in 2006, I went to work in the tourism industry. Back in the desert and working with tourists from all over the world, I learned to speak Spanish, and of course, I was able to improve my English. It was amazing to be able to work and travel around the best Morocco tourist attractions at the same time. I felt so privileged.
Later on my brother Youssef asked me to work with him because he needed someone who spoke Spanish. After 8 years of working with him, I eventually created my own business, which later led me to learn to speak Portuguese. I liked Brazil a lot since I was a little boy because of football and Brazilian music. I love that language and insisted a lot to learn.
My profile
Name: Omar Bakabou
Born: 1985
Place of birth: Ouatara, Morocco
College degree: Arabic Literature
Spoken languages ​: Berber, Classical Arabic, Moroccan Arabic, French, English, Spanish, and Portuguese.
Sport: Swimming, football, diving.
Music: All kinds of music.
Likes: Nature, cinema, reading, traveling.
The Bakabou brothers
Concluding this About Us section, I can say that we are two brothers who dedicated their lives to organizing the best Marrakech desert tours possible.
With several years of experience in organizing Marrakech desert tours, Fes to Marrakech desert tours, the imperial cities tours, and day trips from Marrakech, our attention to detail and to your safety make the difference in working with us, as we provide the maximum satisfaction of all our customers.
This family project is directed by Omar, Youssef, and our father, Mr. Mohamed, who believe in competence, safety, and a very strong work ethic with their customers. From the moment we meet, you will realize the love we have for our country, and the pride we feel in being the ones who take you to know the best places to visit in Morocco.
Our services
Private trips
Dromedary tours
English speaking guides
Luxury and VIP trips
Cultural Experience
Group trips
4X4 expeditions in the desert
Accommodation reservation
Women-friendly
Family-friendly
Custom routes
Honeymoon trips
Airport transfer
Shopping trips
Our desert trips
Our vehicles
We have extensive experience working with tourism and our services, focused on Morocco tours, the desert areas, and the best Medinas in Morocco, covering a number of possibilities, from the shortest and simplest tours to tailor-made itineraries for our customers. Taking this into account, it gives you the possibility to build your own adventure in Morocco according to your personal preferences.
We have departures from Marrakech, Agadir, Fes, Rabat, Casablanca, Ouarzazate, and Tangier, with round-trip or linear routes, for example, between Fes and Marrakech.
Our tours are carried out in off-road vehicles and in vans, which allows us to enter places that would otherwise be out of reach for the average traveler. We can therefore take our clients to the desert in complete safety. Some of the regions we travel to were used in the past by the Paris-Dakar car competition.
The vehicles are driven by professionals with extensive experience and in-depth knowledge of the country. In addition, our 4X4 are new and their maintenance is taken very seriously.
We provide:
Pre-defined or customized tours, in 4WD vehicles, vans, and minibusses.
Do you want to bring your own 4X4? It is even possible to make the journeys in the customer's vehicle if that is your wish;
Tours in the desert, on foot, 4WD or camel;
Organization of accommodation in hotels, riads, and desert camps;
Car rental, 4WD rental with or without a driver;
Trekking in the Atlas mountains or in the desert;
Playful activities for families, companies, or groups of friends;
Desert tours by motorcycle, quad, or buggies;
Wedding organization in Morocco, with lots of entertainment and local culture.
Do you have something different in mind? Tell us about it.