Welcome to our page about the 3 days desert tour from Fes to Marrakech. Discover amazing destinations! During your holidays in Morocco, you can book a Fes to Marrakech desert tour. Taking this into account, we crafted the perfect desert experience for you!
Day 1 » Fes – Azrou – Ziz Valley – Erg Chebbi dunes
Day 2 » Erg Chebbi dunes – Todra Gorges canyon – Dades Valley
Day 3 » Dades Valley – Ouarzazate – Ait Benhaddou – Marrakech
Fes to Marrakech Desert Tour
Due to length, the route Fes-desert-Marrakech takes a few days to overcome. Considering this, many people decide to visit the Sahara Desert on a single Fes to Marrakech tour.
In three days, we offer you the possibility of going from Marrakech to Fes through Merzouga desert. This way, you get to cross the best places to visit in Morocco, such as the cedar forest in Azrou, interact with wild monkeys, the Ziz Valley, and Erg Chebbi dunes.
Furthermore, you will visit the Todra Gorge canyon, the Dades Valley, Kasbah Taourirt in Ouarzazate city, the UNESCO Morocco site of Ksar Ait Benhaddou, and the Tizi-n-Tichka mountain pass.
Included
This is a private tour.
Pick up and drop off at your hotel in Fes medina.
Air-conditioned vehicle with driver and fuel.
Hotels with breakfast and dinner in Erg Chebbi dunes, and Draa Valley.
Merzouga camp with dinner, breakfast, and traditional music evening show.
Merzouga dunes camel ride and guide.
Not included
Lunch and drinks.
Tickets (Atlas Studios 5€, Taourirt 3.5€).
Tips.
Visited Places
Daily Itinerary
Day 1
Day 1 » Fes – Azrou – Ziz Valley – Erg Chebbi dunes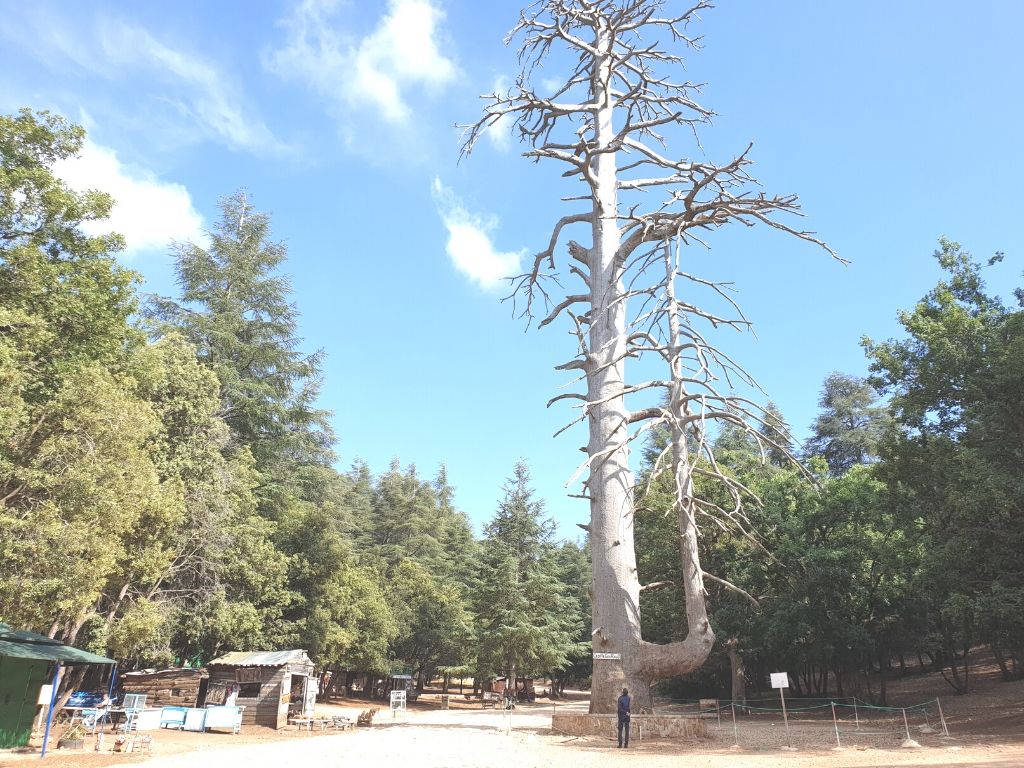 Our staff will pick you from your hotel in Fes to start the journey to a bunch of beautiful destinations and visit Morocco.
Today you pass lovely areas, driving south to Erg Chebbi Dunes, up the Atlas Mountains. You will be amazed as the landscape changes from the Mediterranean scenario near Fes to an alpine forest in Ifrane, and rocky mountains into dunes, in just one day.
After going out of Fes, you will still visit the relaxed city of Ifrane, with its Alpine architecture and surrounded by lakes and forests. You will ask yourself if you're still in Morocco or somewhere in Central Europe.
After comes Azrou, which is famous for its forests and the famous Barbary monkeys. You will stop to profit from the Cèdre Gouraud Forest and its impressive 35-meter-tall cedar tree.
Starting going up the mountains, you will pass Midelt, the Moroccan apple capital. You will notice the cool mountain brize in contrast to the forthcoming warm desert winds.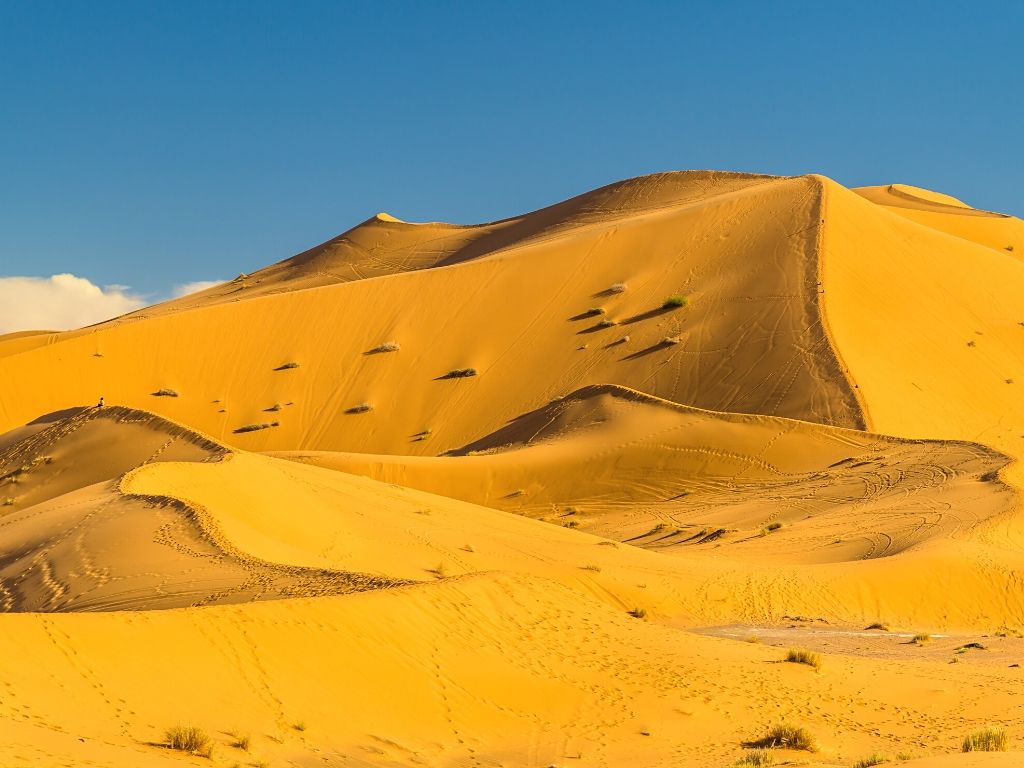 Before entering the desert, you cross through the incredible Ziz Valley, where you stop for a panoramic view of the millions of palm trees of Tafilalet palm grove.
You will notice the landscape changing into a sandy environment as soon as you pass Errachidia.
The first day of your Fes desert trip ends when you finally arrive in the lovely Merzouga desert camp.
After a camel ride in Erg Chebbi Dunes, you're ready to go inside your tent, shower, have dinner, and listen to some local traditional music.
Day 2
Day 2 » Erg Chebbi dunes – Todra Gorges canyon – Dades Valley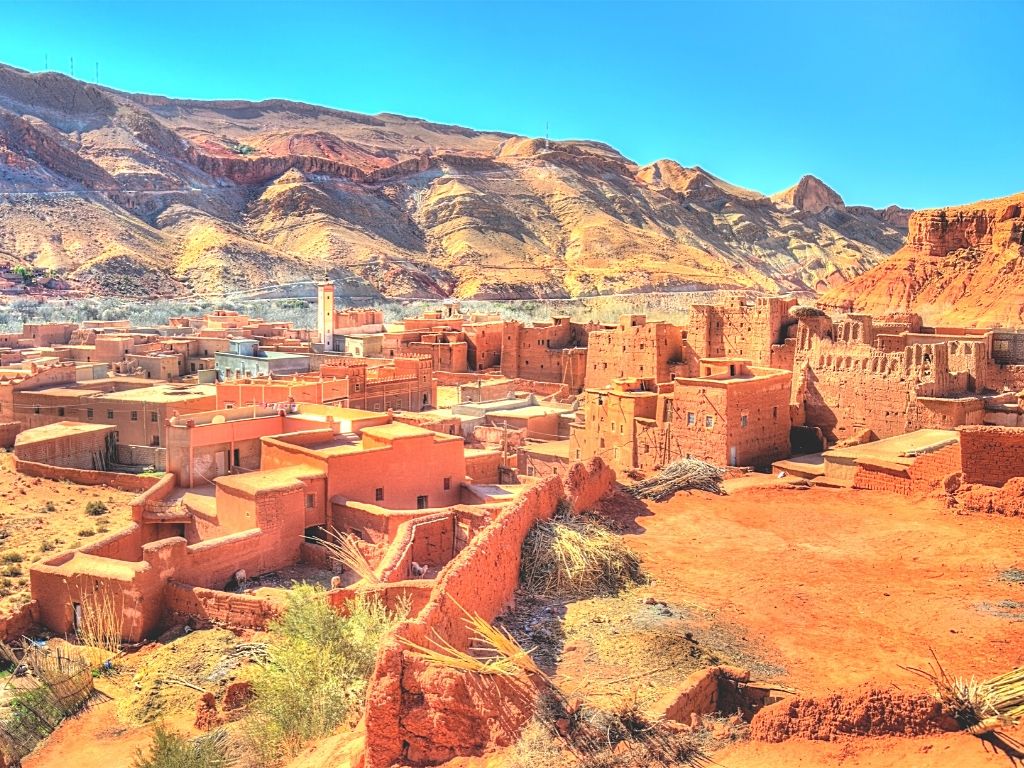 Today, you have to wake up early to enjoy a magnificent sunrise in the Sahara Desert (free activity and optional). It is hard to wake up but worth the effort. Go up one of the big dunes and enjoy this fantastic nature-site.
Driving towards another spectacular site, you cross the Tinghir area with some photo stops. Deep inside the valley, you finally go out for a walk inside the breathtaking Todra Gorge canyon.
Continuing your trip, you depart towards the magnificent Dades Valley that due its red colors looks like you're entering another planet. After a short photo stop at the Monkey Finger's viewpoint, you now go up the incredible Tissadrine road that's on the list of most beautiful drivable roads in the world.
You arrive at your hotel inside the incredible Dades Gorge canyon. You can now go to your room and have a shower and get ready for dinner. The day was long, and you need to prepare for tomorrow's drive to Marrakech.
Day 3
Day 3 » Dades Valley – Ouarzazate – Ait Benhaddou – Marrakech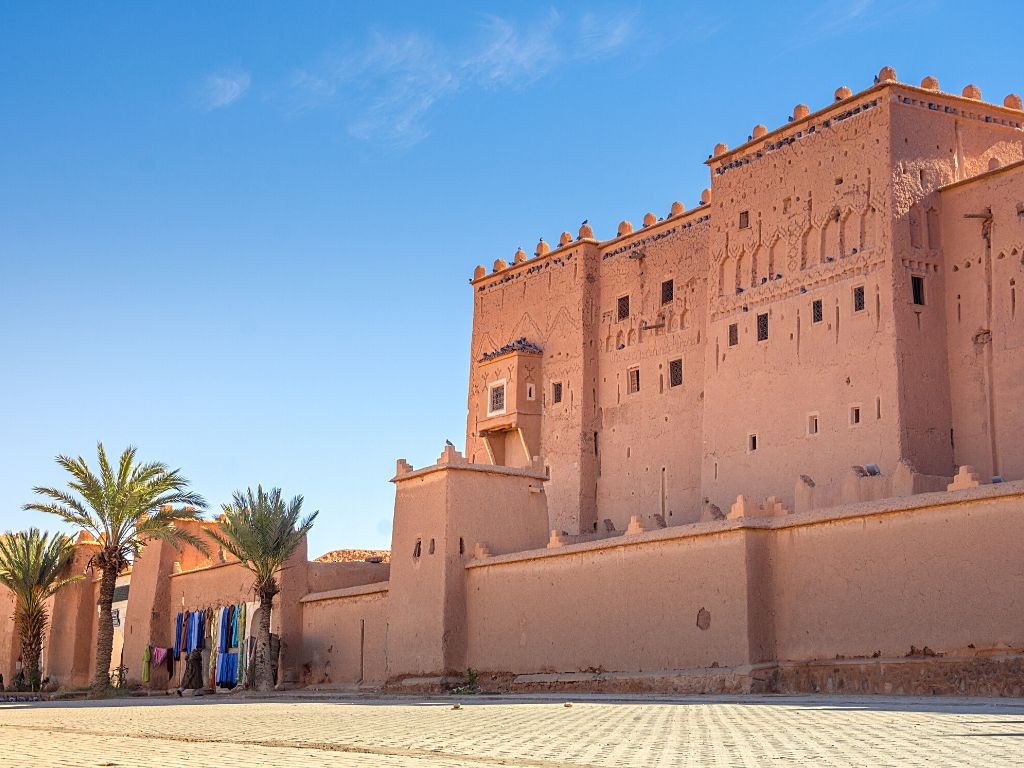 You start the third day of your adventure to reach the city of Marrakech late afternoon.
On the road from Boumalne Dades to Skoura, you will notice the famous architecture of the kasbah in Morocco.
Arriving at Ouarzazate, you make a short stop to visit the famous 17th-century Kasbah Taourirt belonging to the Marrakech Pacha from the Glaoui tribes.
Continuing your journey, you visit the famous Atlas Studios. These studios are the shooting location for countless famous movies such as the Kingdom of Heaven, Prisoners of the Sun, Gladiator, Lawrence of Arabia, Kundun, the Mummy, a Hologram for the King, Prince of Persia, Babel, Body of Lies, and many others.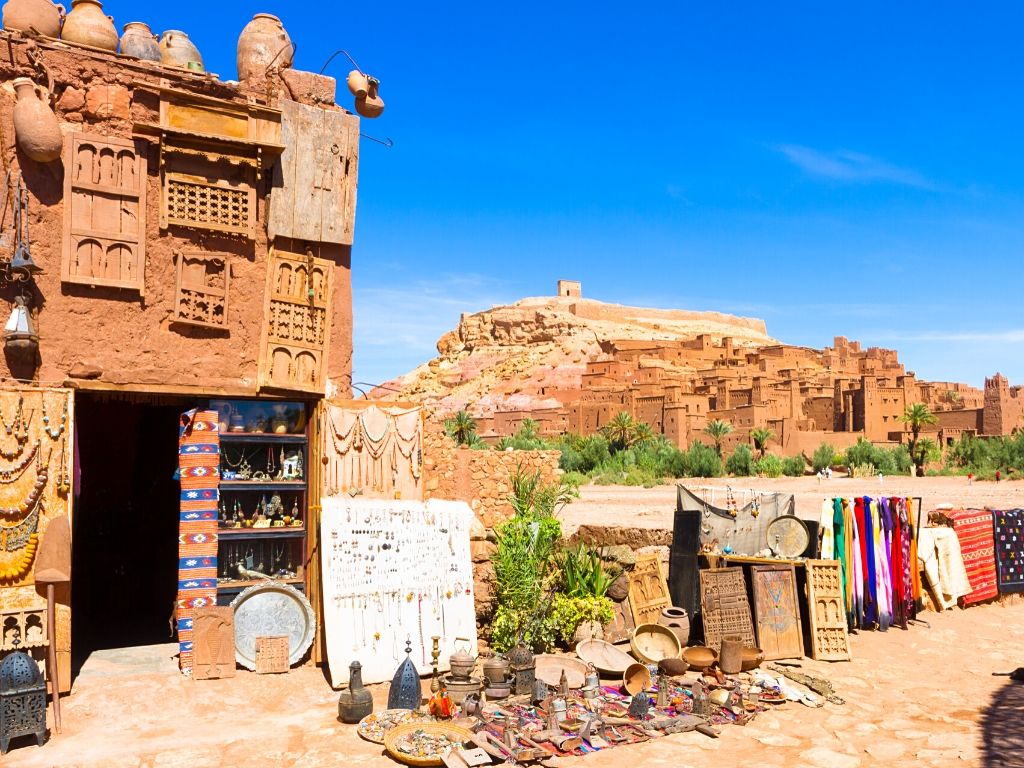 Up the mountains, you visit Ksar Ait Benhaddou. This UNESCO Morocco site is a fortified mud-brick village full of the best examples of kasbahs in Morocco.
Ksar Ait Benhaddou is the only UNESCO site in southern Morocco and stands as one of the most stunning places in the country.
In the movies, Ait Benhaddou is the village with an adobe fighting arena in Gladiator, and also the Yunkai city in Game of Thrones.
You are now on your way to Marrakech, passing through the Atlas Mountains up to the Tizi n'Tichka mountain pass at 2,260m.
Late afternoon arrival to Marrakech. End of tour.
Desert camps in Merzouga
Luxury desert camp
Option 1 » Merzouga luxury desert camp » tent with an ensuite shower + WC.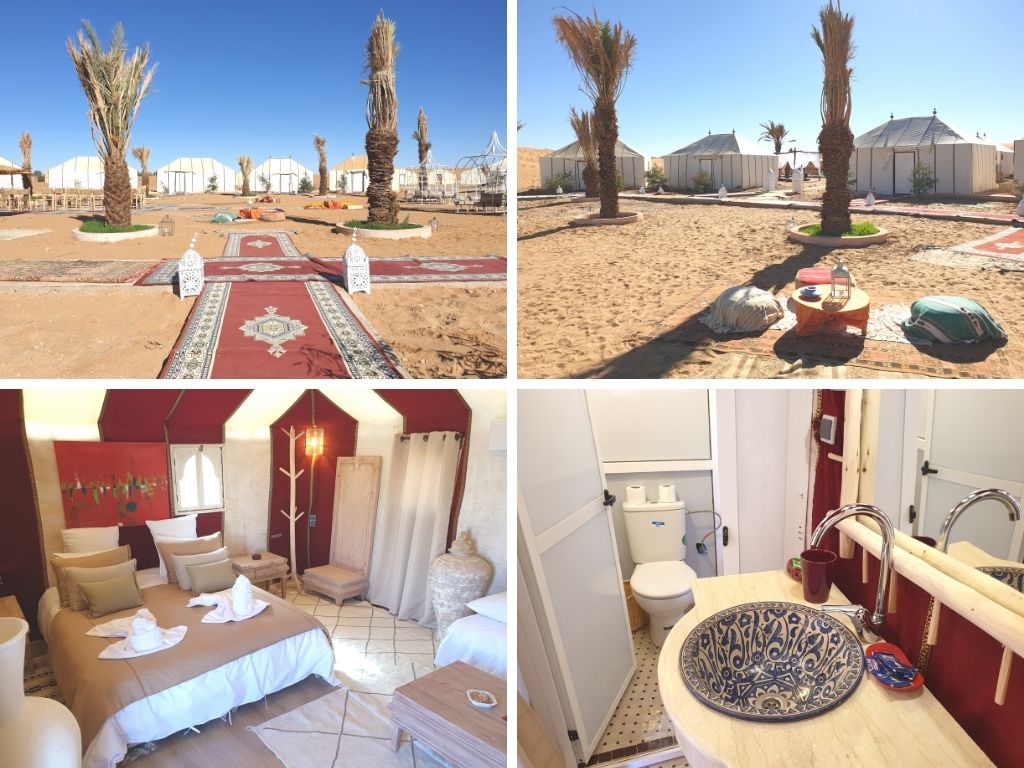 Standard desert camp
Option 2 » Merzouga standard desert camp » tent with shared shower + WC.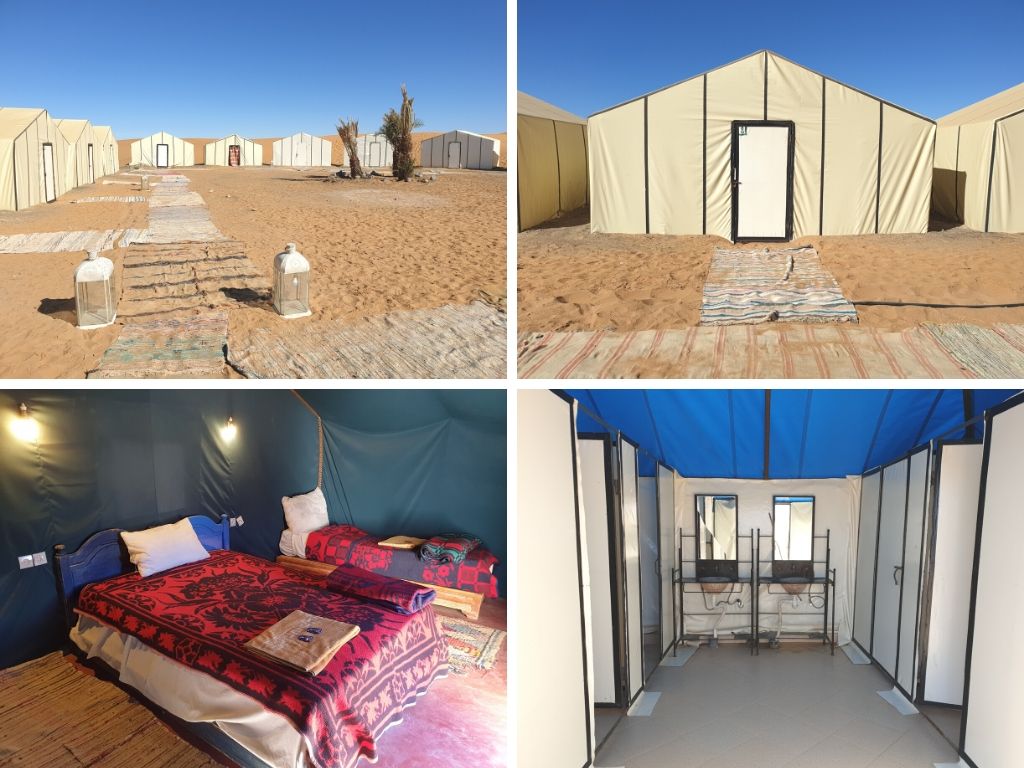 Our Vehicles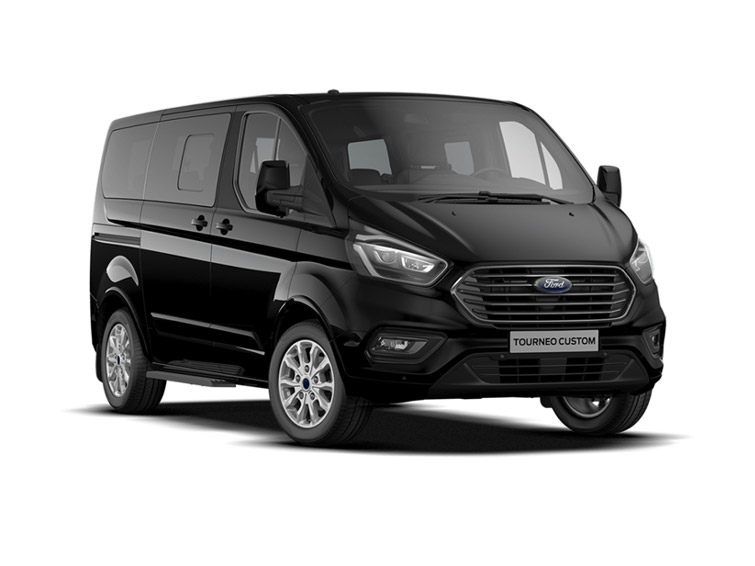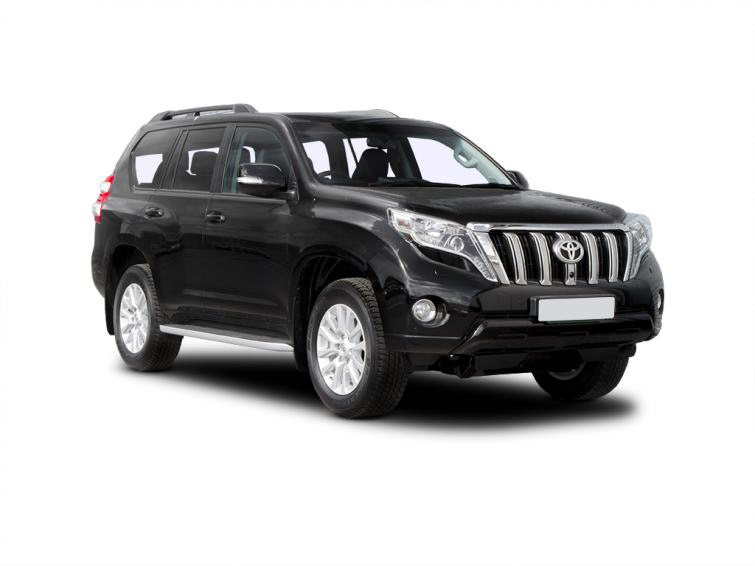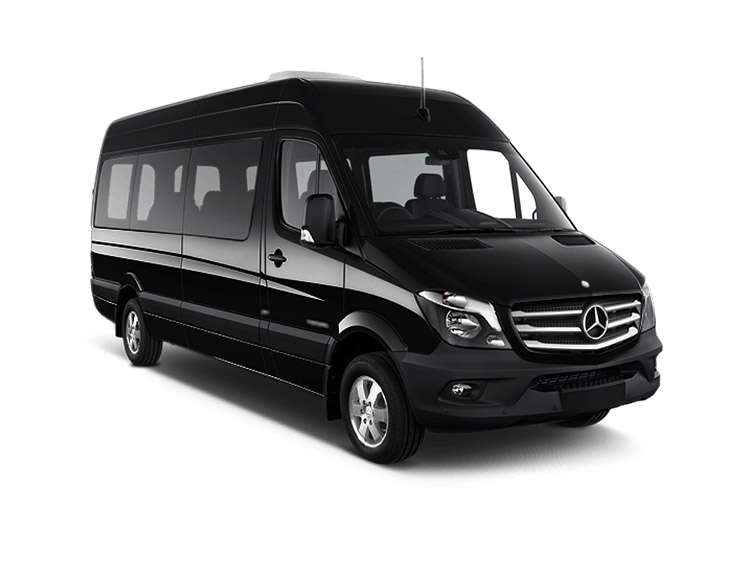 Frequently asked questions
Are there other Fes desert tours with more days?
What is the difference between the 4-day and the 3-day Fes to Marrakech desert tour?
The main difference between the 3-day, the 4-day Marrakech to Fes desert tour is that you will have an extra day to enjoy and visit the Sahara Desert areas. The trip around the dunes includes Hassilabied oasis, Merzouga lake, Khamlia village, Taouz petroglyphs, and Mfis abandoned mines. It's fantastic to get to know the desert culture around Erg Chebbi dunes.
Can this tour be made the other way around, starting in Marrakech?
Yes, this journey can also be made the other way around as a Marrakech to Fes desert tour. You visit the same destinations, just in the opposite direction.
Does this trip include a camel ride Morocco experience?