Welcome to our page about the 2 days Zagora desert tour departing from Marrakech. Discover amazing destinations! Are you on a Marrakech city break and wish to book one of our Marrakech desert tours? We crafted the perfect Zagora tour and exciting desert experience for you.
Day 1 » Marrakech – Ait Benhaddou – Ouarzazate – Agdz – Draa valley – Zagora
Day 2 » Zagora – Amezrou – Tissergate – Ouarzazate – Marrakech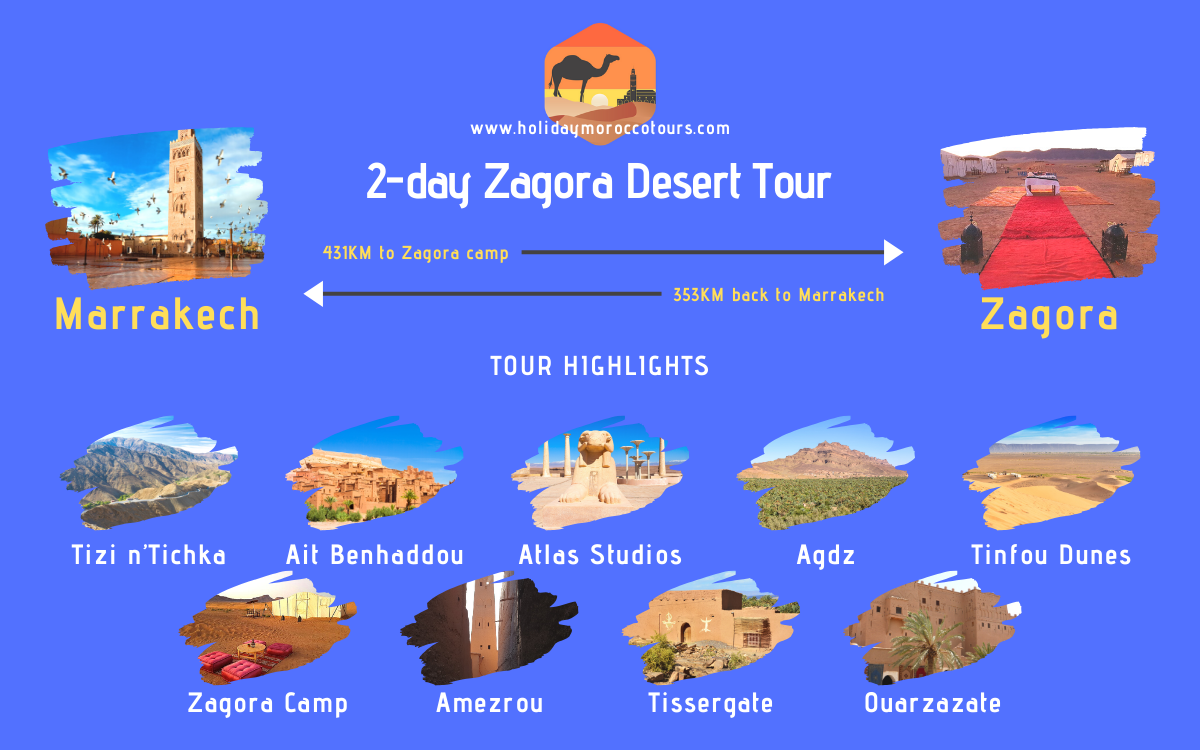 Zagora Desert Tour
Due to distance, Sahara Desert tours from Marrakech can't be made on a day trip. You need a minimum of one night / two days to properly arrive in the Sahara.
In 2 days, we offer you the possibility of going from Marrakech to Zagora desert crossing the best places to visit in Morocco, such as the Tizi-n-Tichka mountain pass, the UNESCO Morocco site of Ksar Ait Benhaddou, Ouarzazate city, Jbel Saghro Mountain, and the Draa Valley.
Does a camel ride Morocco tell you anything? Yes, on our 2-day Marrakech Sahara tour, you can have a thrilling Zagora camel trekking and sleep in a Morocco desert camp.
Want more days? Contact us for more information about a possible 3-day Zagora tour and a 4-day Zagora tour visiting the Erg Chigaga dunes. Morocco desert tours are usually available in three destinations: Zagora desert, Mhamid desert (Erg Chigaga dunes), and Merzouga desert (Erg Chebbi dunes).
Included
This is a private tour.
Pick up and drop off at your hotel in medina Marrakech.
Air-conditioned vehicle with fuel.
Dinner & breakfast and traditional music evening show in Zagora camp.
Tinfou dunes camel ride and guide.
Not included
Lunch and drinks.
Entrance fees (Atlas Studios 5€, Taourirt 3.5€, Tissergate Museum 3€).
Tips.
Visited Places
Important note: This tour takes you to "the small Sahara Desert," being the only option to be in the desert if you only have 2 days available. Although beautiful, Tinfou dunes are just one miniature dune with smaller others surrounding it. If you want to see "the big Sahara Desert," you can choose our 3-day Merzouga desert tour, 4-day Merzouga desert tour, or the 5-day Merzouga desert tour. Erg Chebbi dunes spread around 50km and go up to 250 meters high.
Daily Itinerary
Day 1
Day 1 » Marrakech – Ait Benhaddou – Ouarzazate – Agdz – Draa valley – Zagora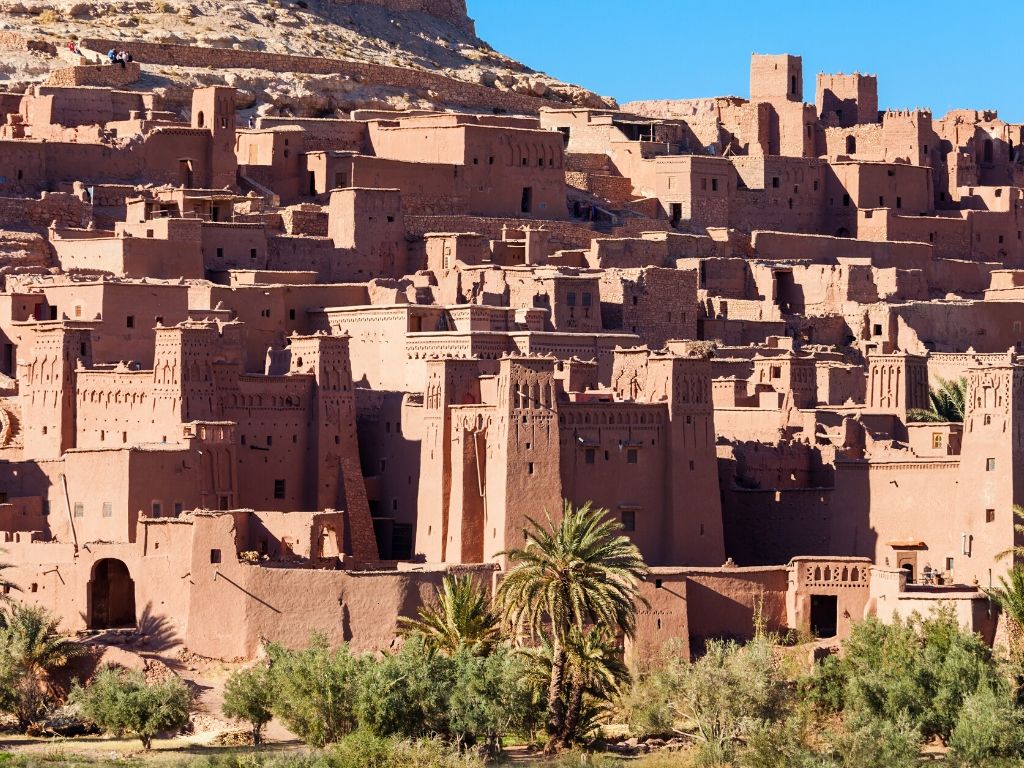 Our staff will pick you from your hotel in Marrakech to start the journey to a bunch of beautiful destinations and visit Morocco.
Firstly you will pass through the Atlas Mountains up to the Tizi n'Tichka mountain pass at 2,260m.
Down the mountains, you go towards Ksar Ait Benhaddou. This UNESCO Morocco site is a fortified mud-brick village full of the best examples of kasbahs in Morocco.
After lunch and continuing your journey to Ouarzazate, you visit the famous Atlas Studios. This is the shooting location for countless famous movies such as the Kingdom of Heaven, Prisoners of the Sun, Gladiator, Lawrence of Arabia, Kundun, the Mummy, a Hologram for the King, Prince of Persia, Babel, Body of Lies, and many others.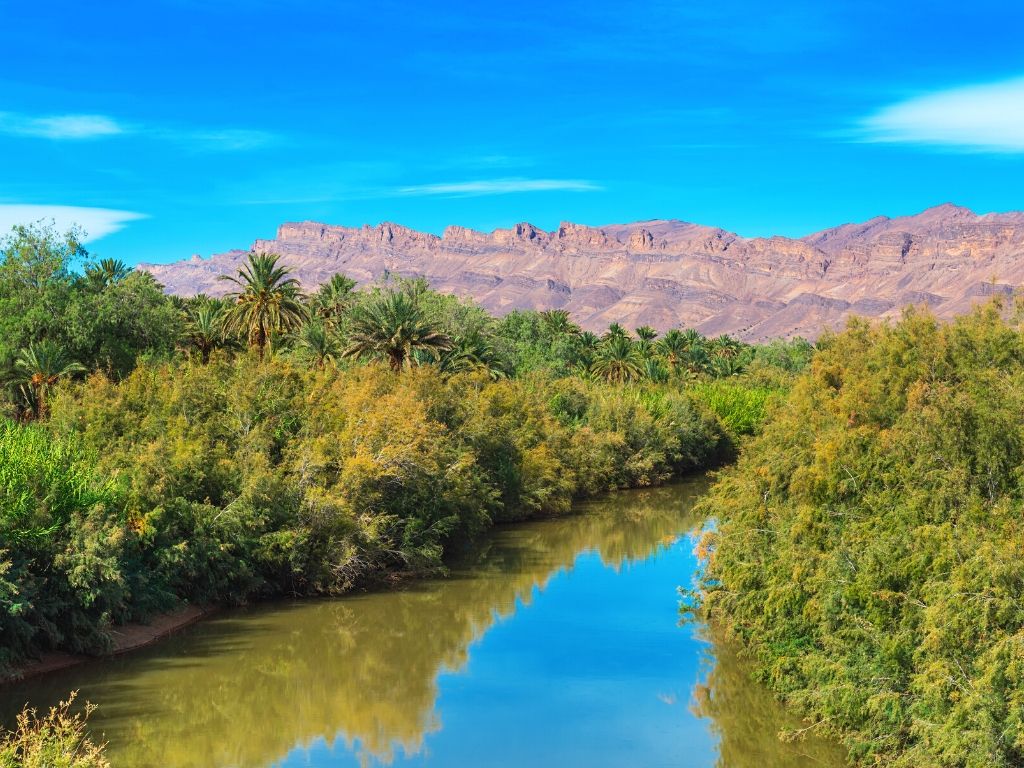 South of Ouarzazate, you have yet to cross Jbel Saghro Mountain all the way to Agdz. Here you will stop at the panorama viewpoint and enjoy the view of more than 2 million palm trees below the peculiar Kissane Mountain.
Following the Draa Valley, you reach the Tinfou dunes from where you will have a short camel ride right on time to admire a beautiful sunset.
The first day of your Marrakech desert trip ends when you finally arrive in the lovely Zagora desert camp.
You're now ready to go inside your tent, shower, have dinner, and listen to some local traditional music.
Day 2
Day 2 » Zagora – Amezrou – Tissergate – Ouarzazate – Marrakech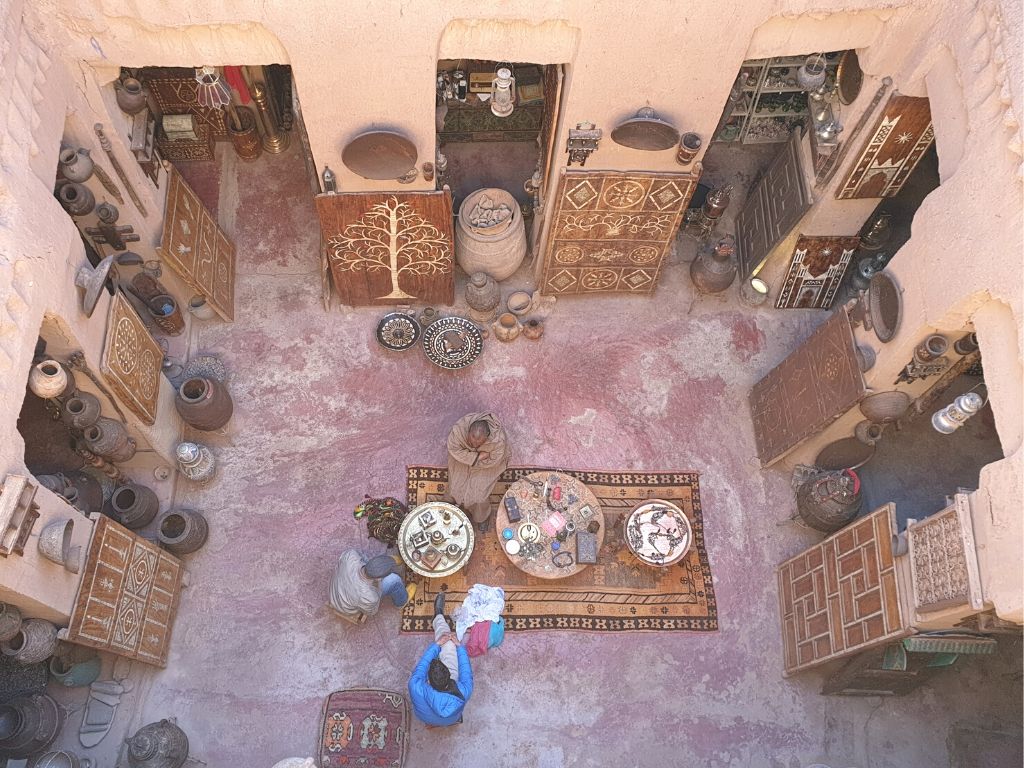 You will wake up early in the morning to have breakfast. You start the second day of your desert adventure to reach Marrakech late afternoon.
Visit the ancient Ksar Amezrou and indulge in the old mud-brick architecture and visit one of the biggest shop-museum in south Morocco.
Even if you decide not to buy anything, you'll be amazed by the architecture and traditional artifacts exposed.
You can also explore several floors and take some pictures.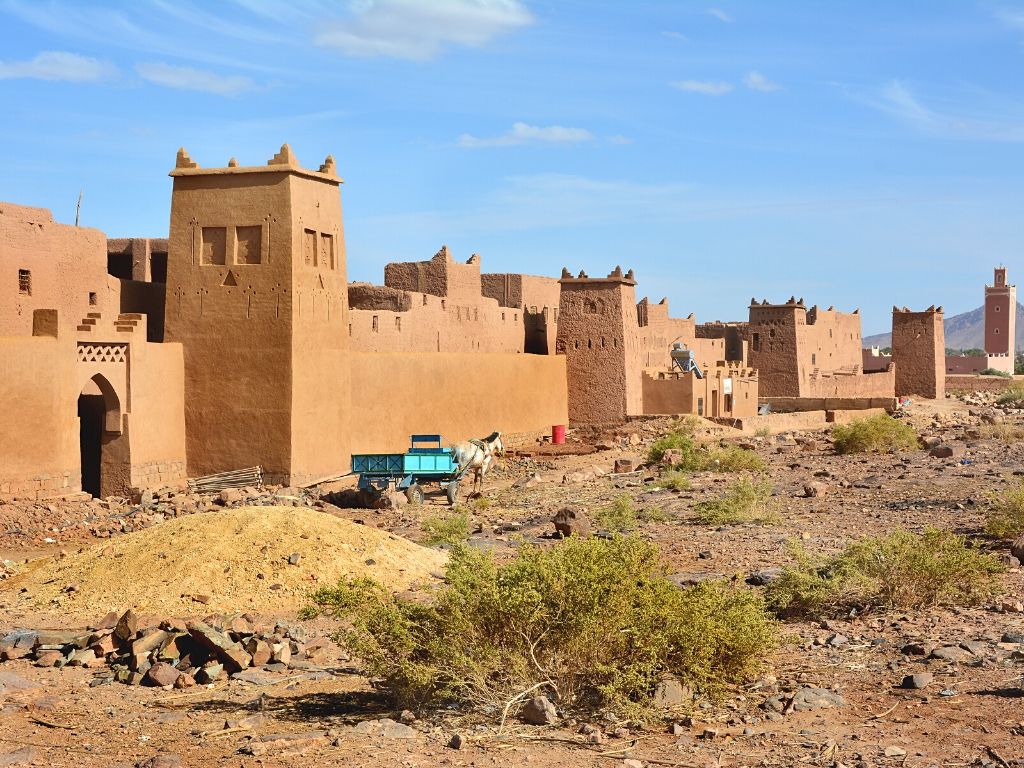 You now depart to visit Ksar Tissergate and its Ethnographic museum.
Wander in the labyrinth alleys and imagine how it would be to live there centuries ago during the period of the Subsaharan camel caravans.
Before driving back to Marrakech, you make a short stop in Ouarzazate, where you will visit the famous 17th-century Kasbah Taourirt belonging to the Marrakech Pacha from the Glaoui tribes.
Late afternoon arrival to Marrakech. End of tour.
Desert Camps in Zagora
Luxury desert camp
Option 1 » Zagora luxury desert camp » tent with an ensuite shower and WC.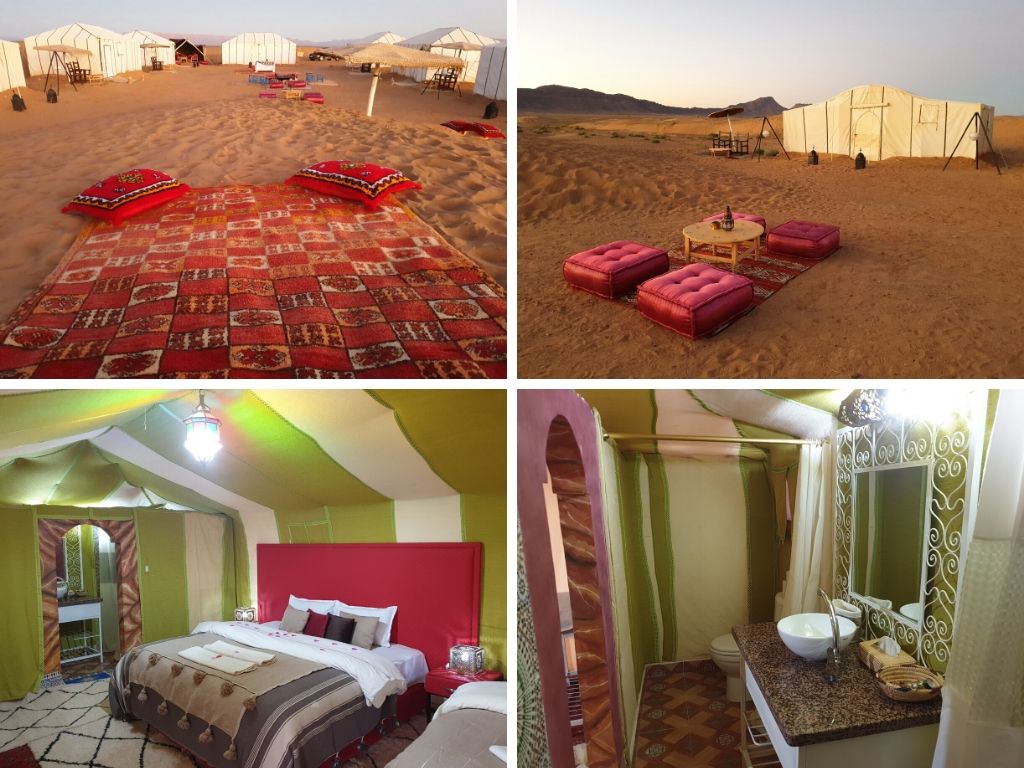 Standard desert camp
Option 2 » Zagora standard desert camp » tent with shared shower and WC.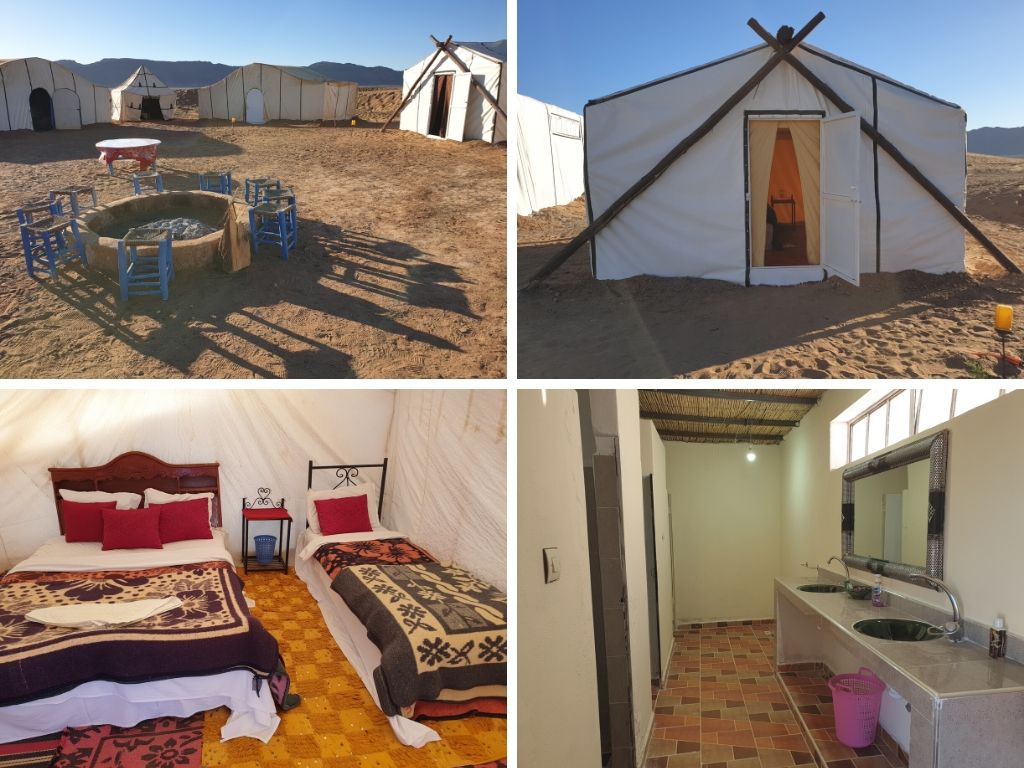 Our Vehicles