Hello! It's me, Omar.
On this page will explain you what I mean about the subject of Camel ride Morocco experience.
On my famous Marrakech desert tours, there are important moments that everyone loves:
Experience a camel ride in Erg Chebbi Dunes.
Overnight in a Merzouga desert camp with a tent, shower, dinner, and listening to some local traditional music.
Morocco Camel Ride » The Options
There are three basic concepts of Camel ride Morocco options. It's possible to obtain this touristic activity in the Sahara desert, on the beaches, and in some cities. Each of these individual and different excursions can fit your journey into the country. Chose the one that suits your needs the best.
City camel rides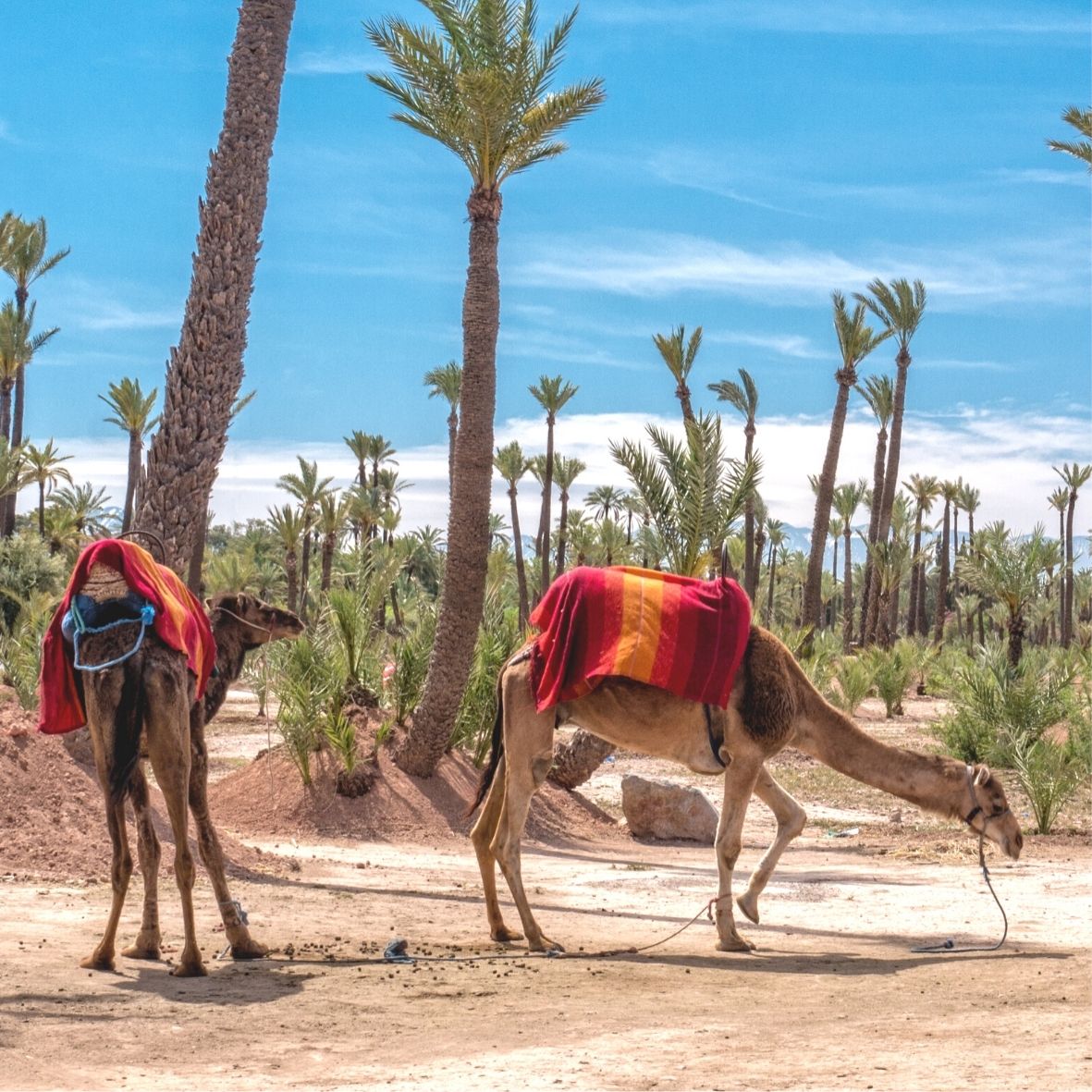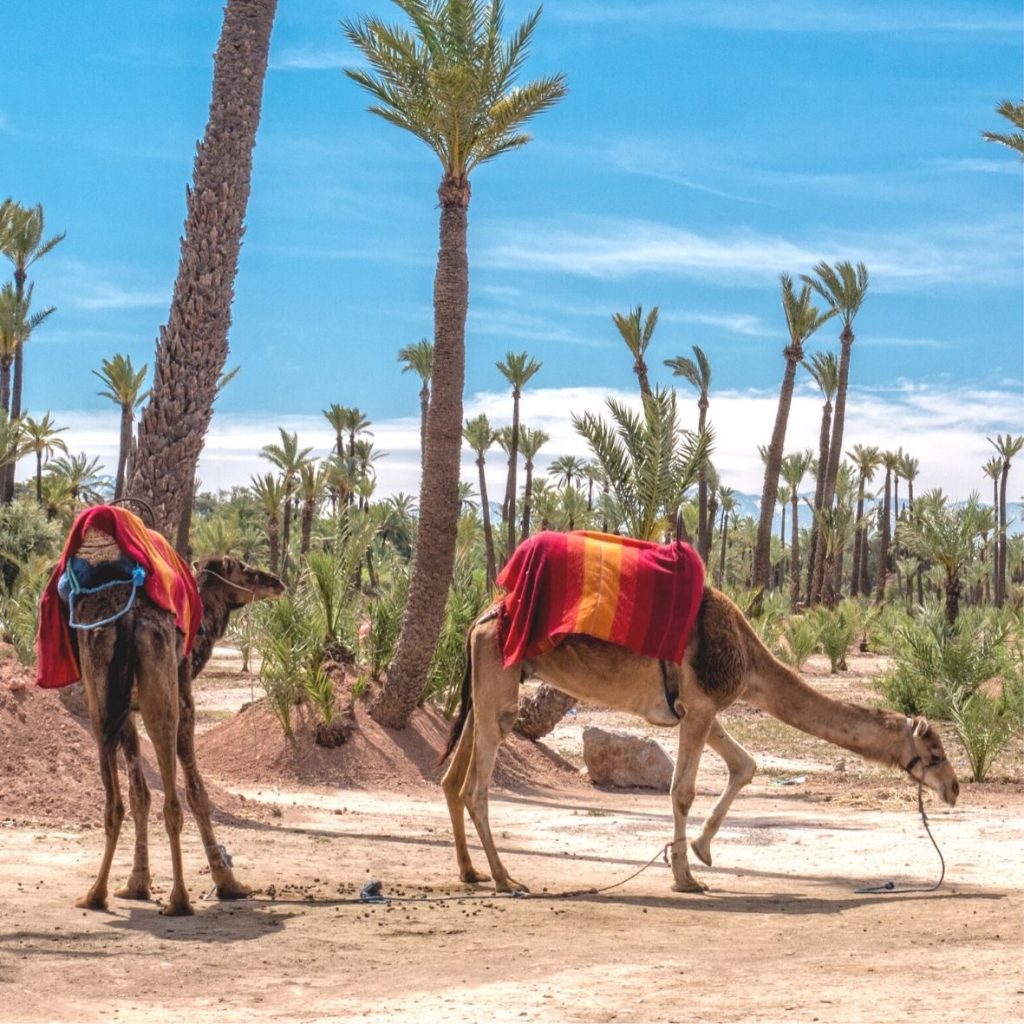 Beach camel rides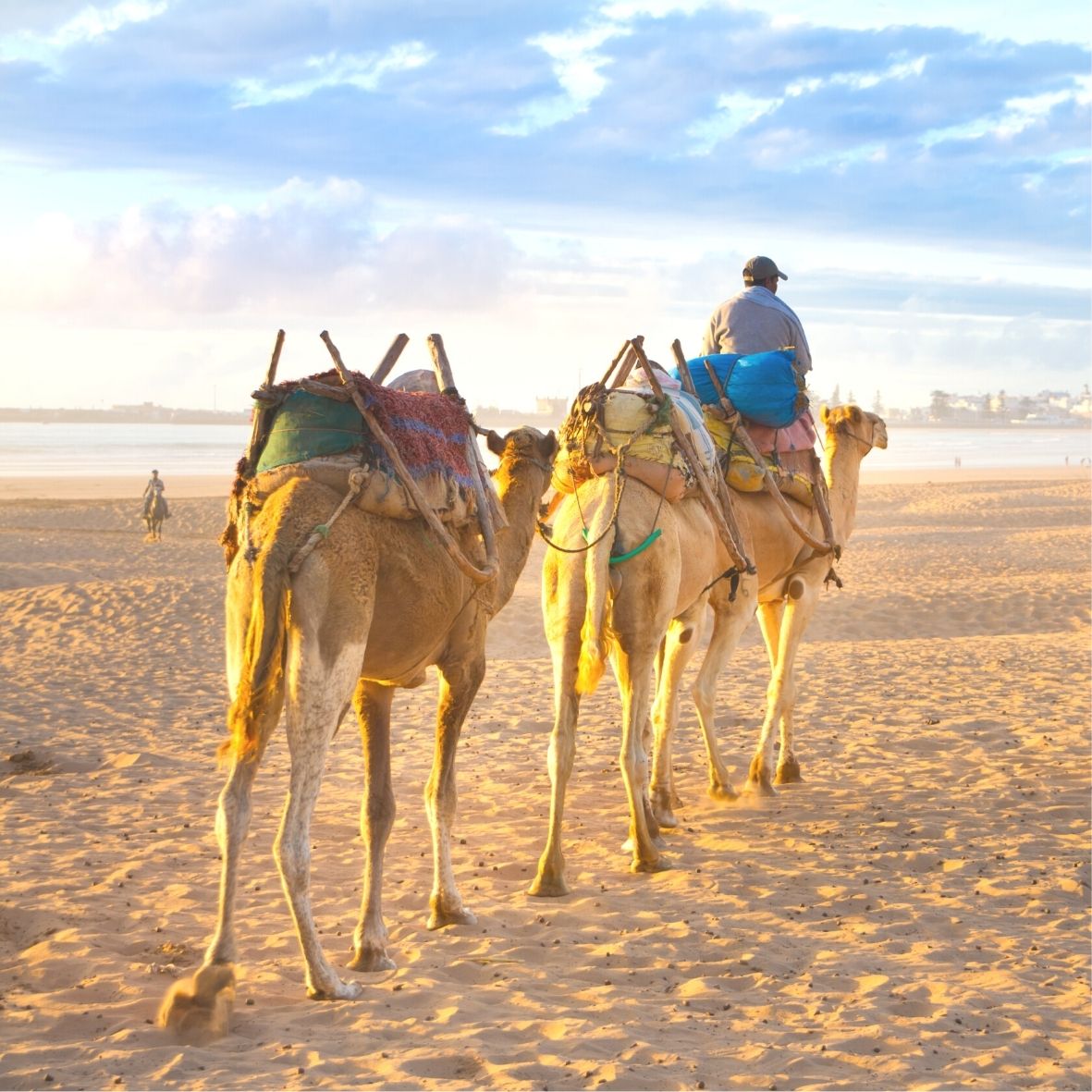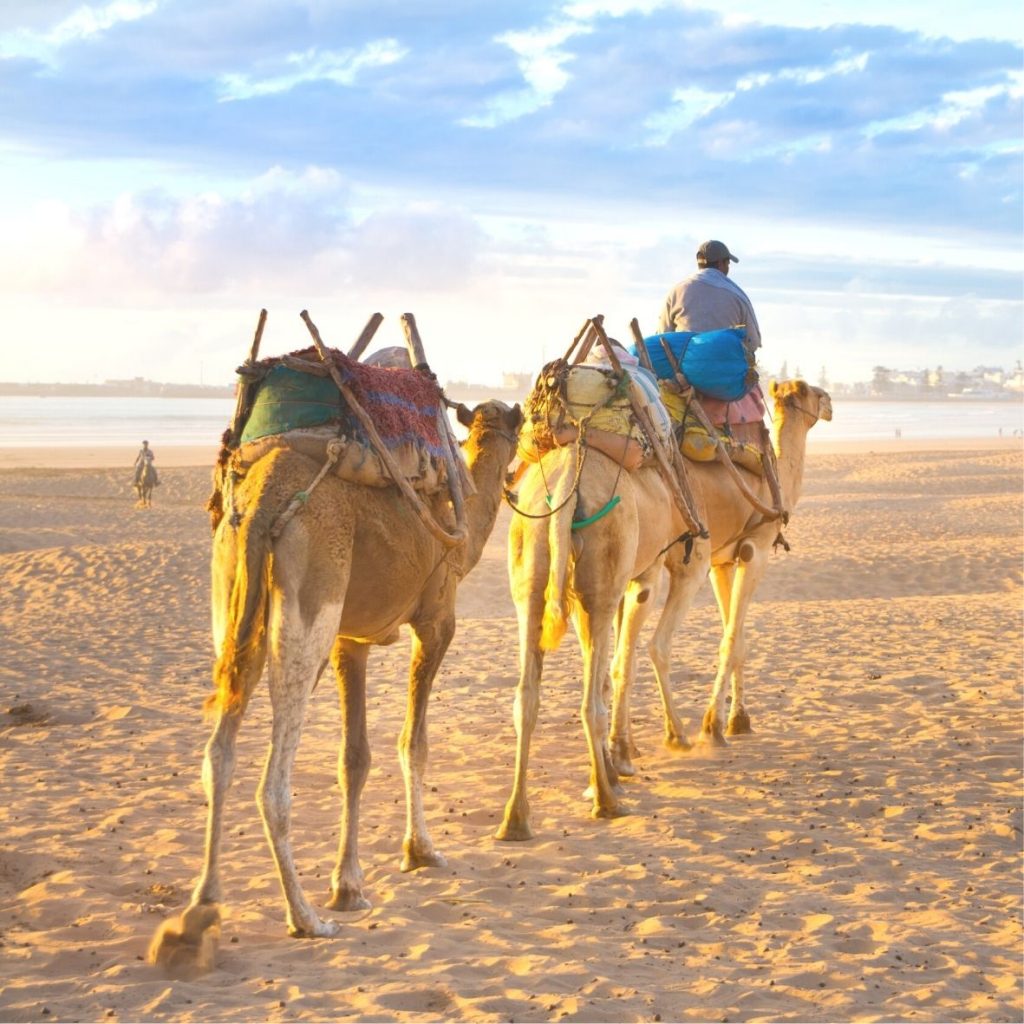 Desert camel rides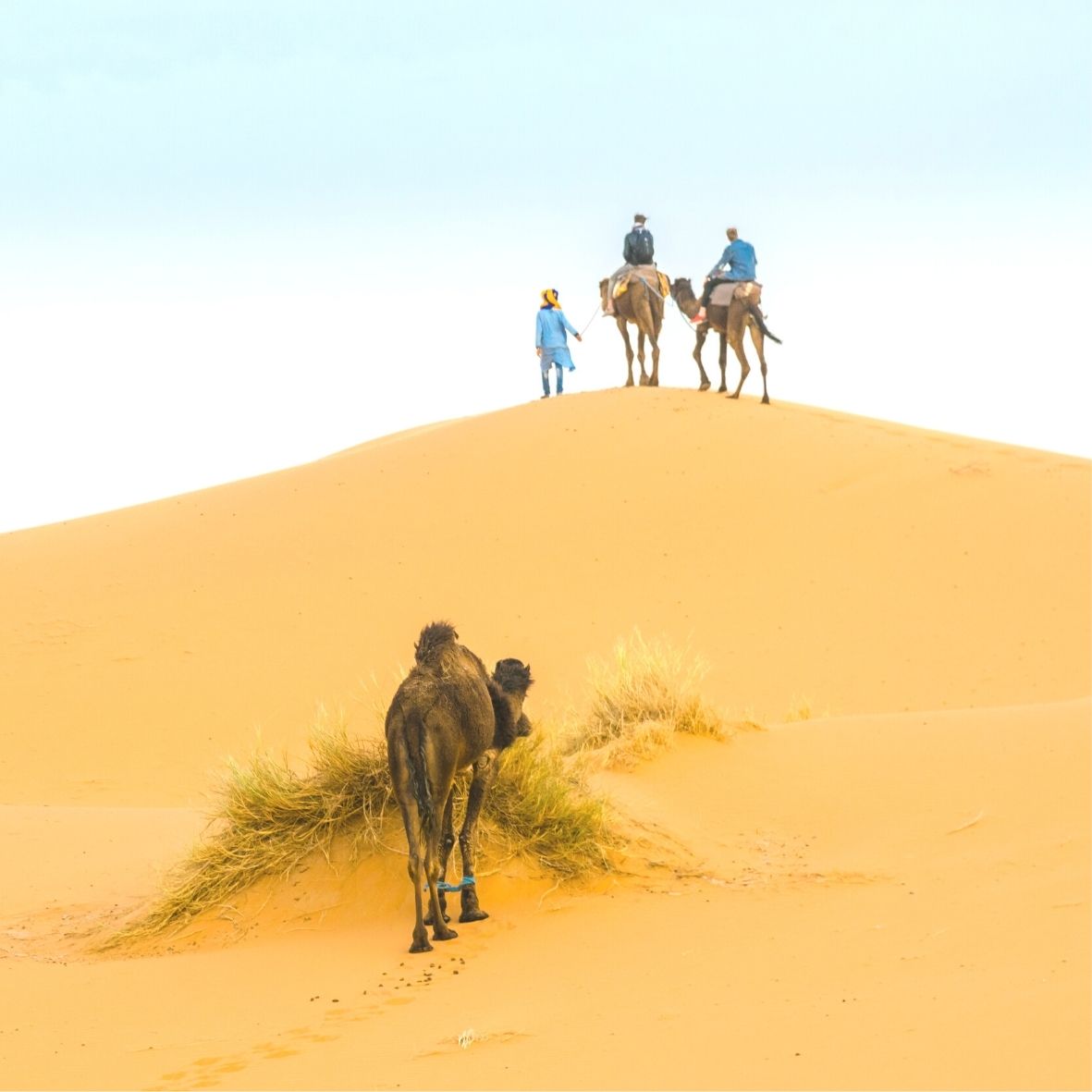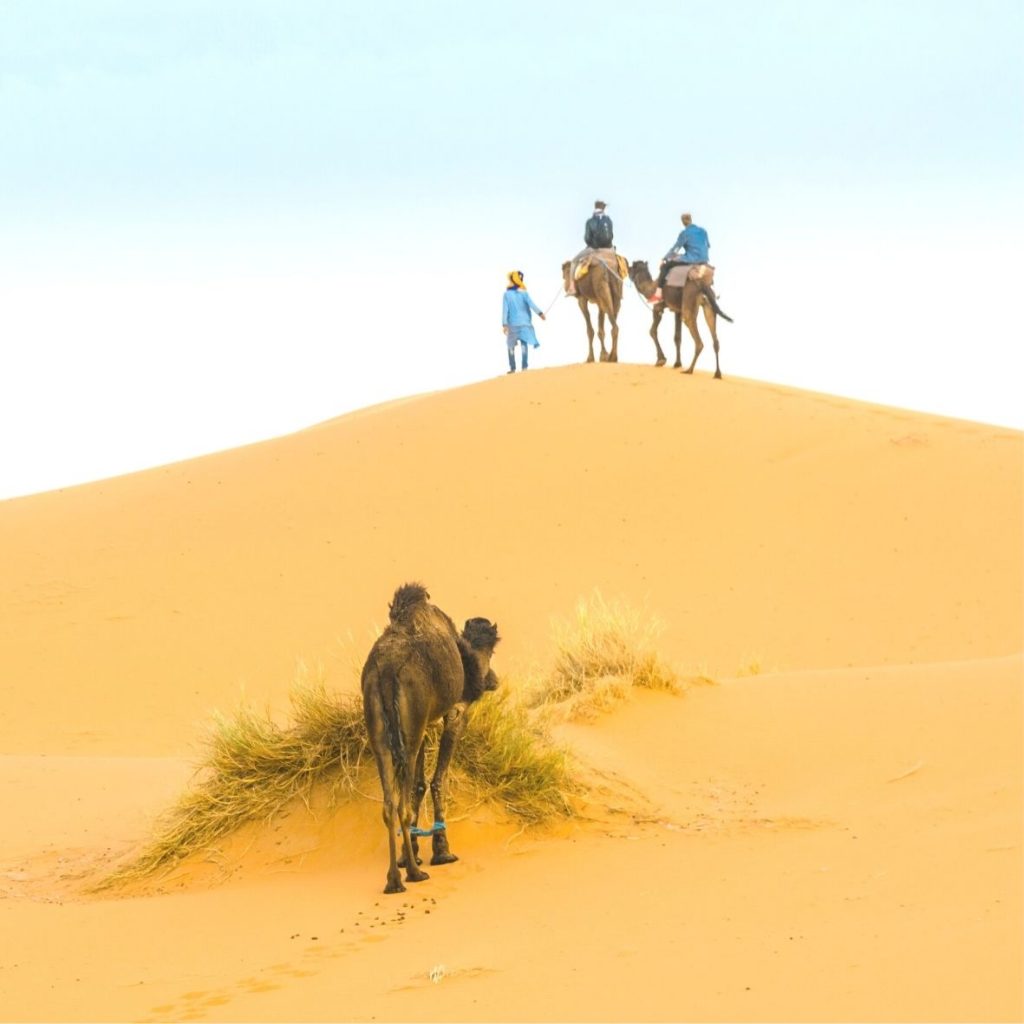 Can you ride camels in Morocco?
Yes, during your trip you can go on a camel ride Morocco adventure! Most common places to ride camels are in Erg Chebbi Dunes, Erg Chigaga Dunes, Tinfou Dunes, Zagora Desert, Agafay Desert, Agadir Beach, Essaouira Beach, and Marrakech palm grove known as Palmeraie. As you noticed, Morocco camel trekking is not limited to the desert, as people often offer these camel ride services on the beach also.
Is it ethical to go on a camel ride Morocco excursion?
Well, this is a very polemic subject, but we have to look at many other aspects of this question. Is horse riding ethical? Many camel owners do take good care of their camels, like many other people take good care of their horses. So, if you wish to get your no remorse camel ride in Morocco, pay proper attention to the camel owner, and how do the camels look. Take into account that usually during high season, many animals get exhausted due to the excess of tourists. Also important to mention is that sometimes during mating season, males do drool a lot, and people associate this to animal abuse, but in fact, they are just horny.
Is a camel different from a dromedary?
Yes indeed! Although camels and dromedaries belong to the same family, the difference between these two animals is actually very noticeable. To be more specific, there are 3 types of "real camels": One is called Dromedary, the second one is called the Bactrian camel, and the last one is called Wild Bactrian camel. While dromedaries have one upper hump, the Bactrian camels have two upper humps. You can't mix them together.
What is the best month to travel in Morocco?
Morocco is proud to be a year-round destination. From the Atlantic and Mediterranean coasts to the Sahara Desert to the Atlas Mountains. Also, Moroccan south is crossed by the Tropic of Cancer which is also referred to as the Northern Tropic. This geographic feature is the most northerly circle of latitude on Earth at which the Sun can be directly overhead. From the northern border with the Spanish enclave of Ceuta to the Mauritanian border in the south, you can expect an astonishing 2400 km distance. So during wintertime, you can snow in the Atlas Mountains with -15º C., and head to the Dunes of Erg Chebbi for some sandboard, and even go to the beach in Dakhla City with 25º – 30º C.
Camel Ride Marrakech » The Options
Experience a 2-hour camel ride within the Palm Grove of Marrakech and encircling Moroccan countryside, where you can traverse traditional communities, tour flourishing palm groves, and engage yourself in the local culture. This is one of the most requested activities and things to do in Marrakech, for those you can't go to the Sahara Desert. Peaceful and comfortable, you can meet the camels with your welcoming camel guides. This Marrakech camel trekking option is perfect for friends or family. A camel ride Marrakech experience is one of the coolest things to do at least once in his life! The Agafay Desert, shorter than an hour driving from Marrakech, is one of the latest must-see places nearby Marrakech where you can go camel trekking.
There are three basic concepts of Camel ride Marrakech options. It's possible to obtain this touristic activity in the famous Marrakech palm grove, in the Ourika Valley, and in the Agafay rocky desert.
Marrakech Palmeraie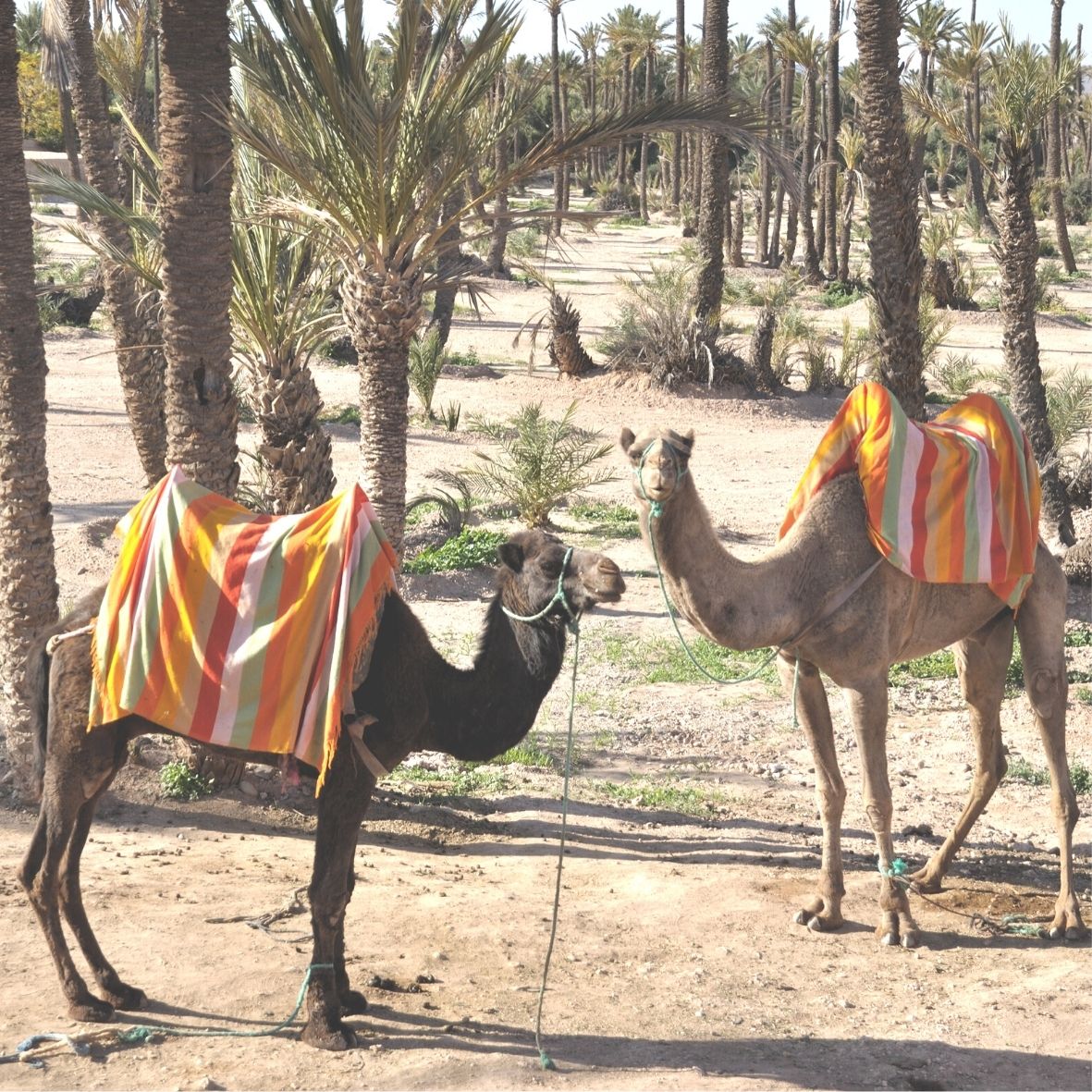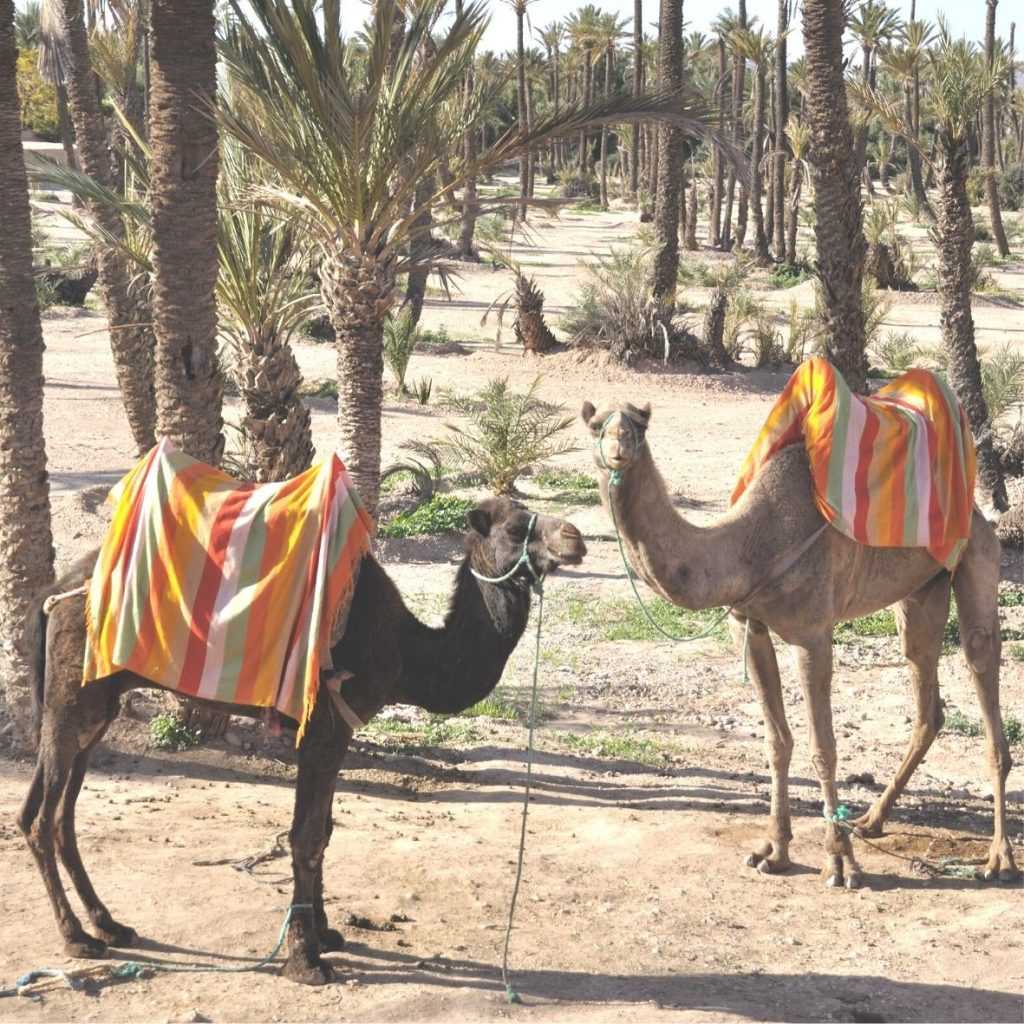 Ourika Valley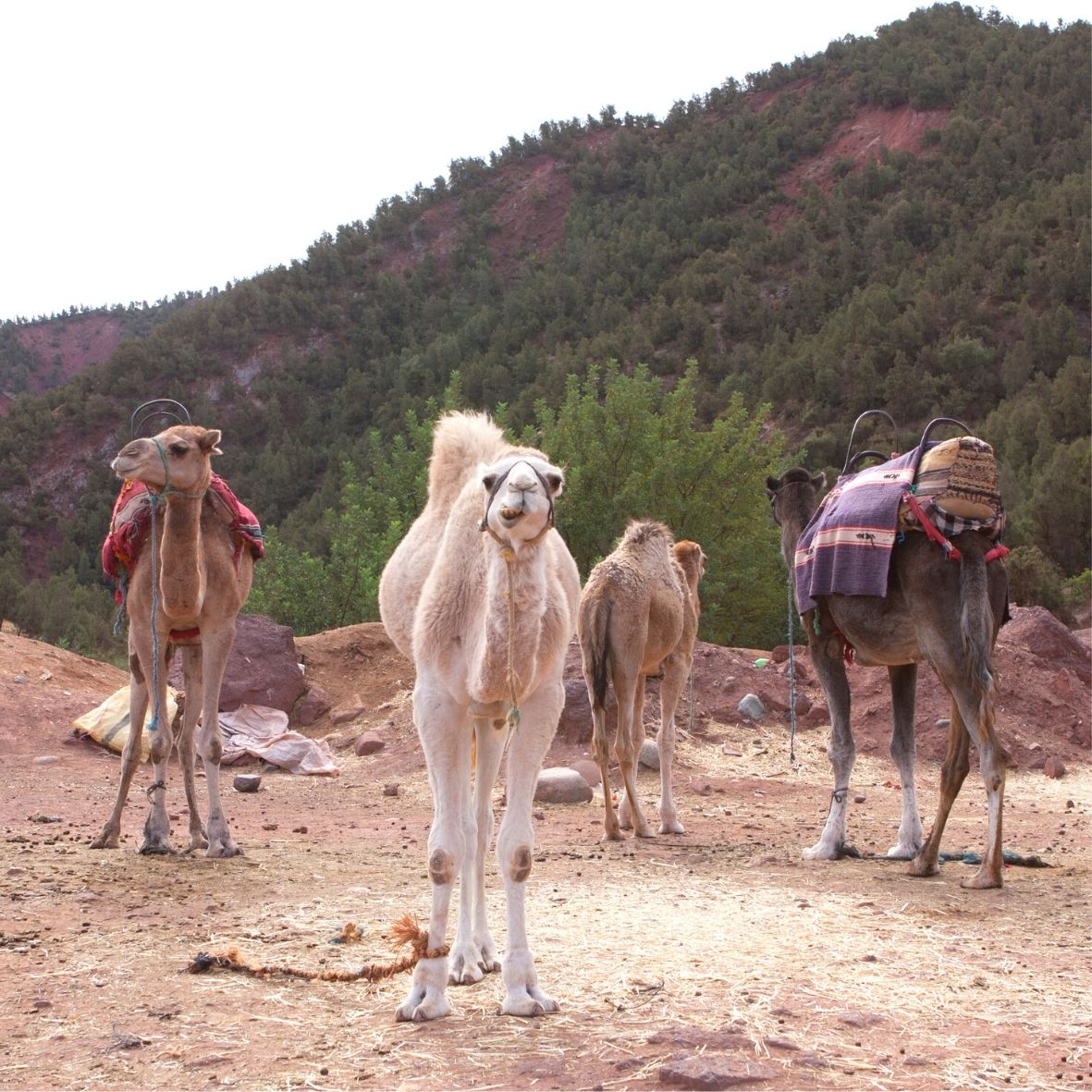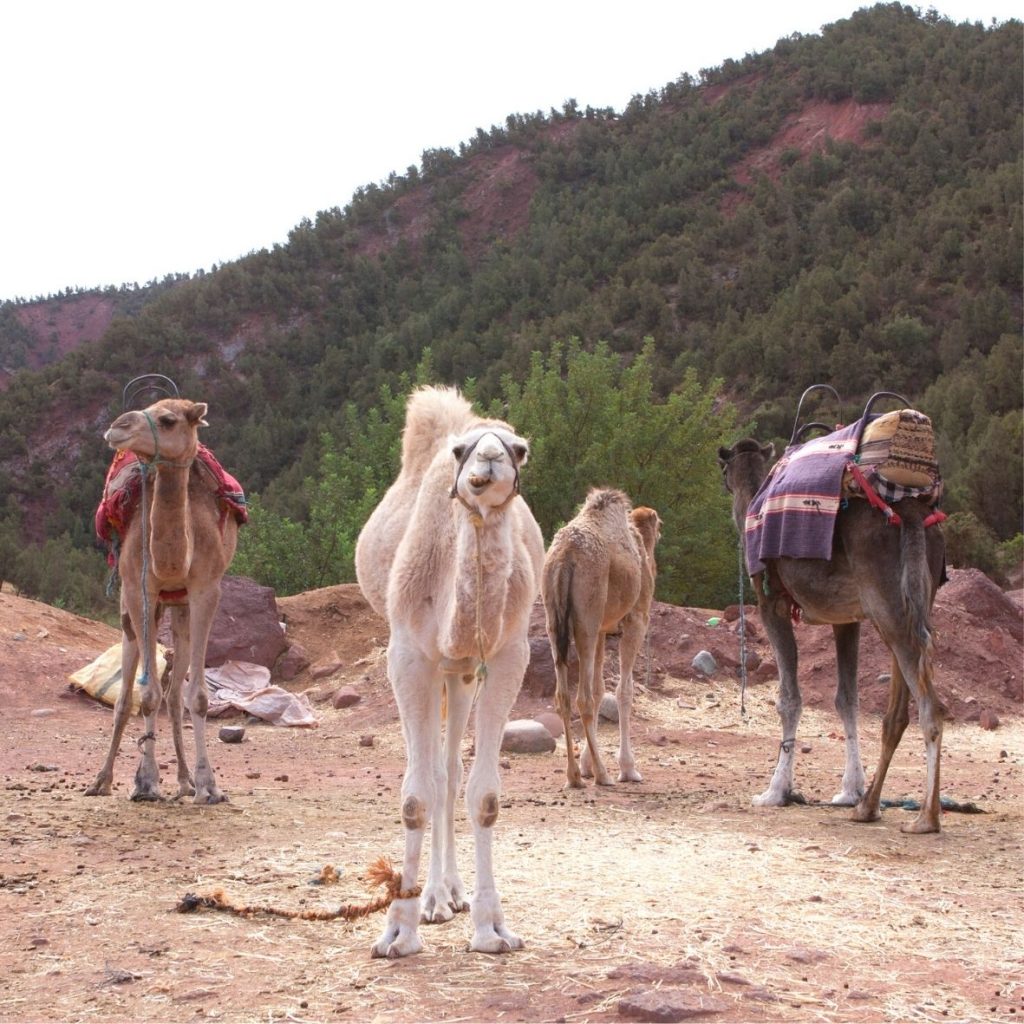 Agafay Desert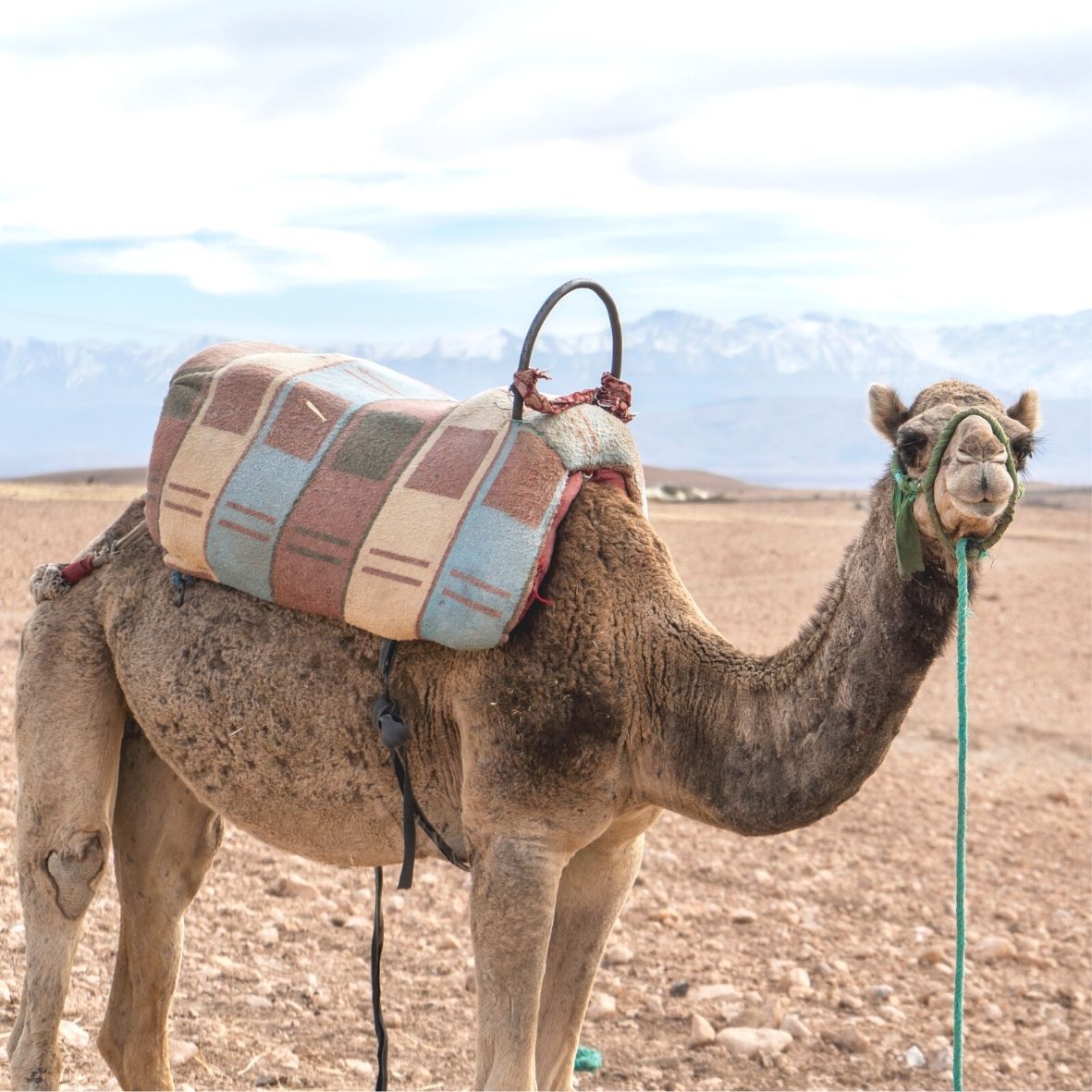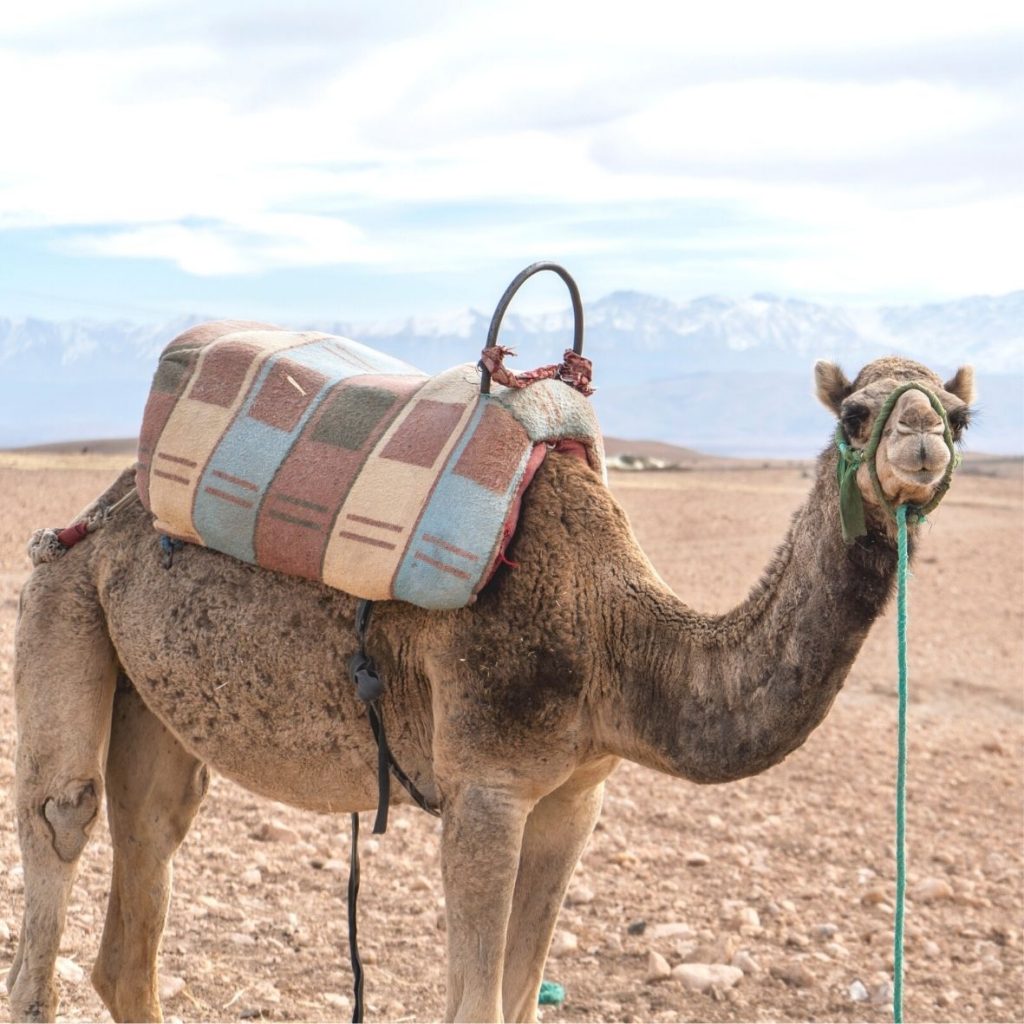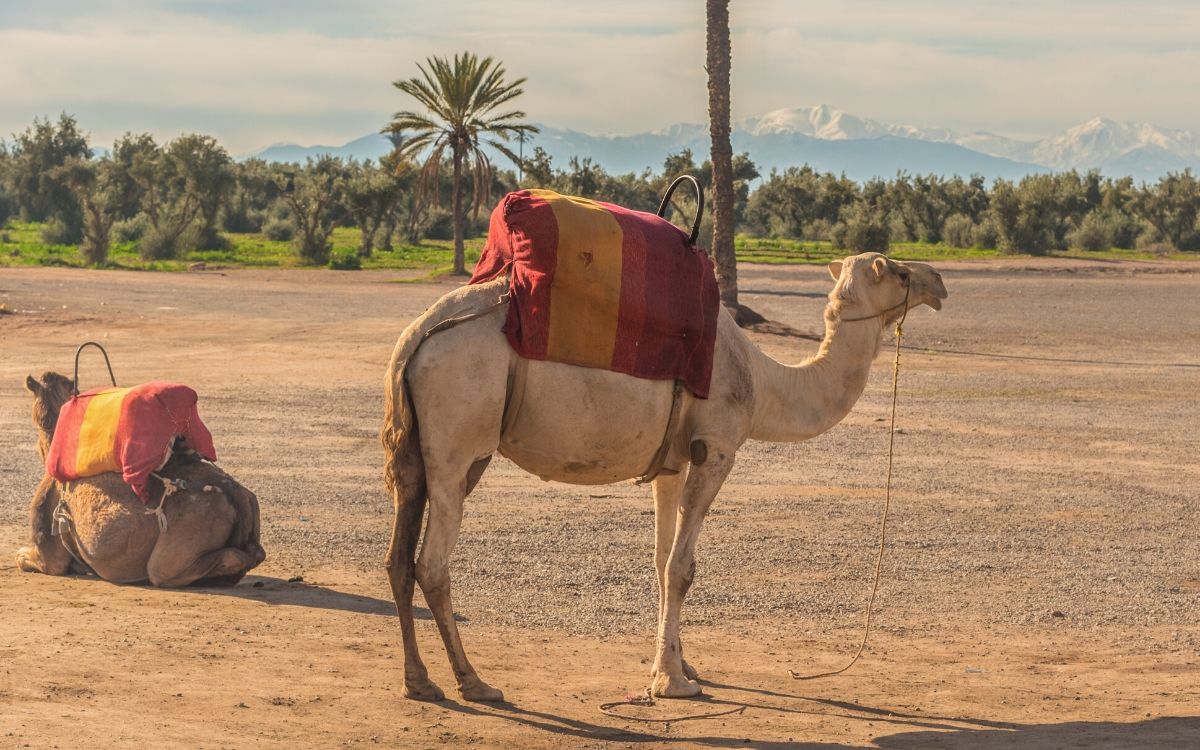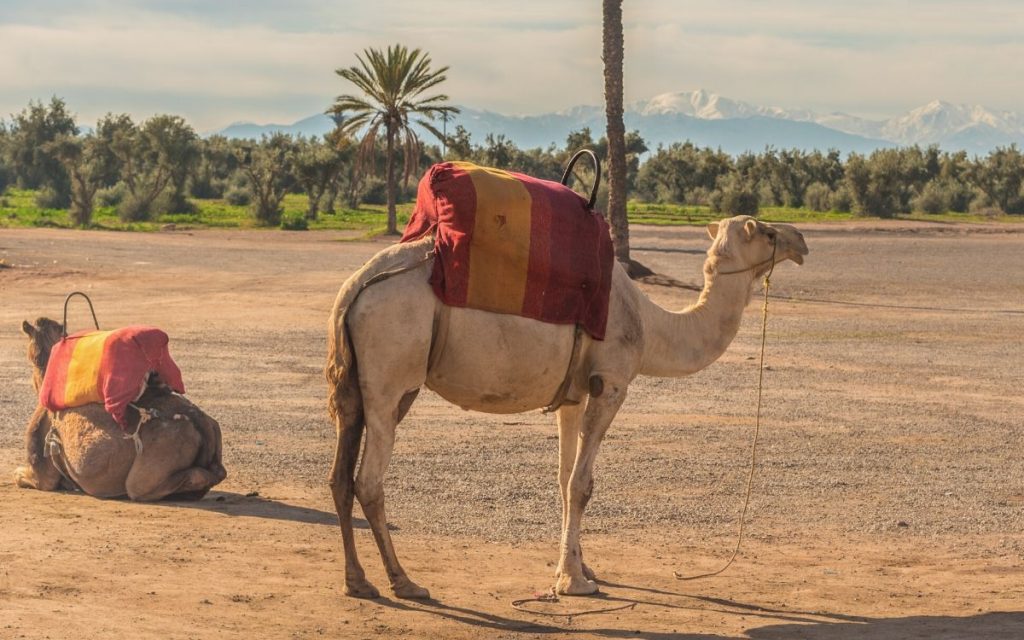 If you came to this page searching for "camel ride Marrakech" please contact me and I can make that happen during your stay in the red city.
Can you ride a camel in Marrakech?
Yes, riding a camel in Marrakech it is one of the most searched touristic attractions in the city. If you want to ride a camel you have to go to Marrakech palm grove, where you can have a nice camel ride between the palm trees, with scenic views of the Atlas Mountains and thousands of threes.
How much are camel rides in Marrakech?
Prices for camel rides in Marrakech vary taking into account two different situations: hotel pick-up and getting it directly in the palm grove.
Usually, a full Marrakech camel ride experience with hotel pick-up and drop-off goes from 25€ to 30€ per person. More exclusive services can go up to 50€ per person in a luxury vehicle.
If you can get to the palmeraie on your own, expect the common price of 15€ to 30€ depending on your capacity of arguing and bargain for a better price.
Camel Ride Sahara Desert » The Options
For those you can afford enough time to go on a proper desert tour from Marrakech, you will most likely enjoy your time in the Sahara Desert. Going to Erg Chebbi Dunes of Erg Chigaga Dunes, or to Merzouga desert or Zagora desert implies that you will engage yourself into an unforgettable camel ride Morocco journey. This is the ultimate Moroccan desert experience that will make you forever remember this small part of Africa.
There are three basic concepts of camel ride Sahara options. It's possible to obtain this touristic activity in the famous Erg Chebbi dunes, in the Erg Chigaga dunes, and in the Tinfou dunes. You can also ride camels in the small Zagora desert, encompassing rocky landscape with some small patches of sand.
Erg Chebbi Dunes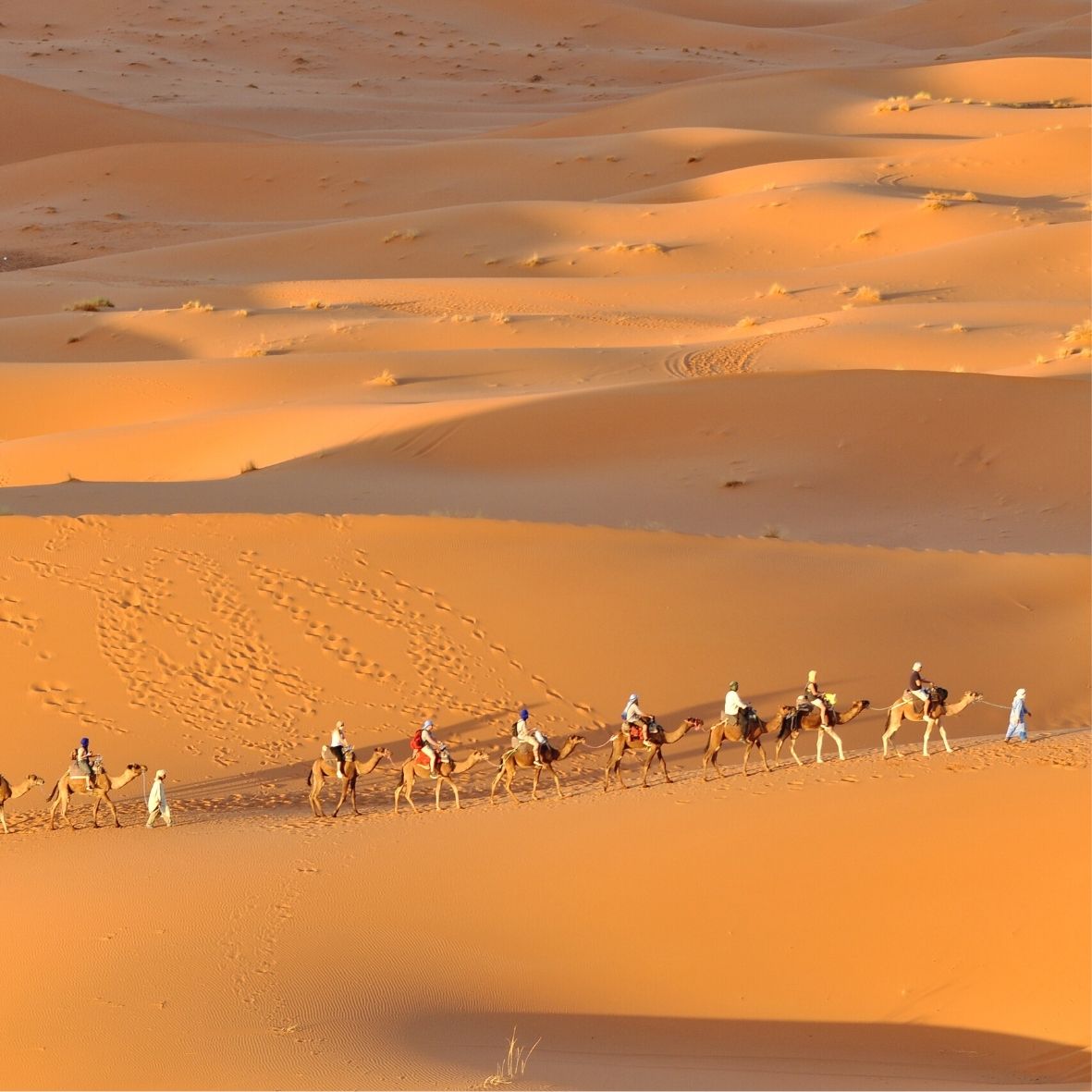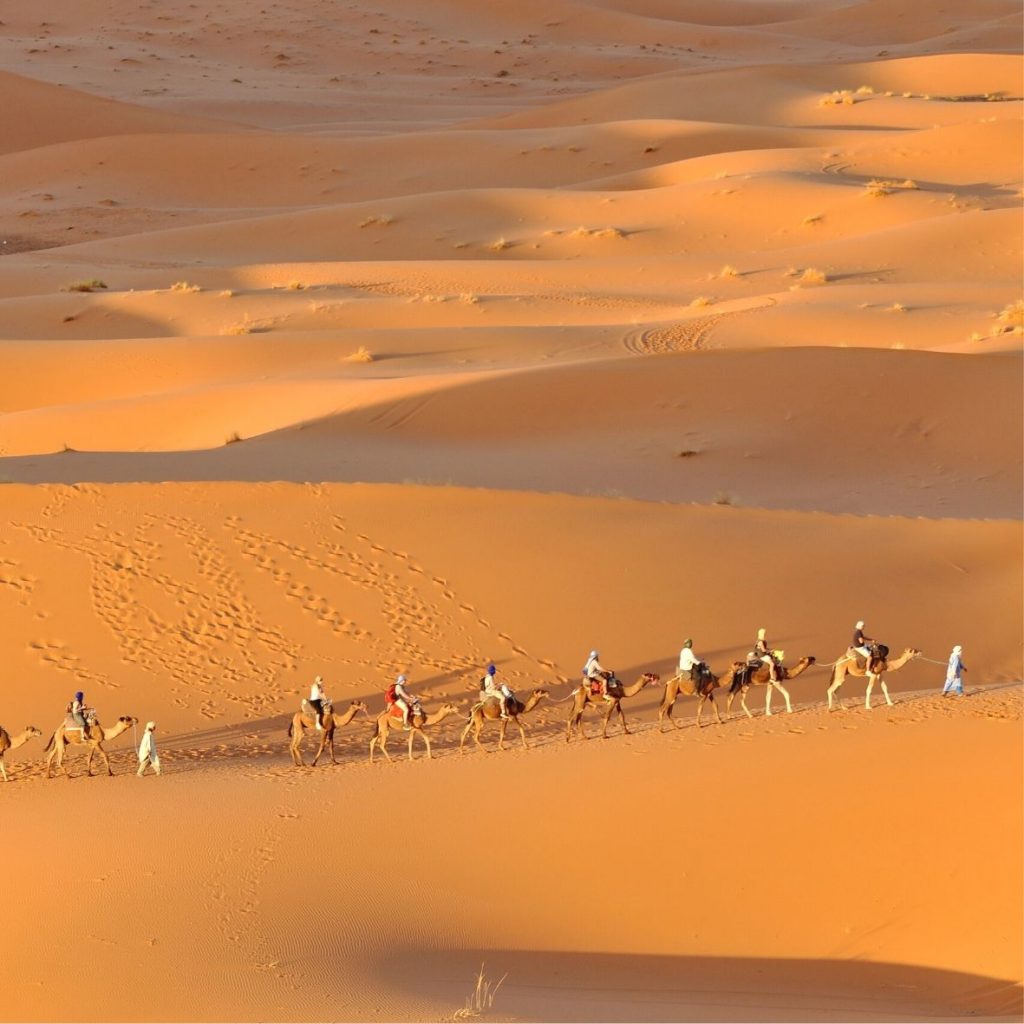 Erg Chigaga Dunes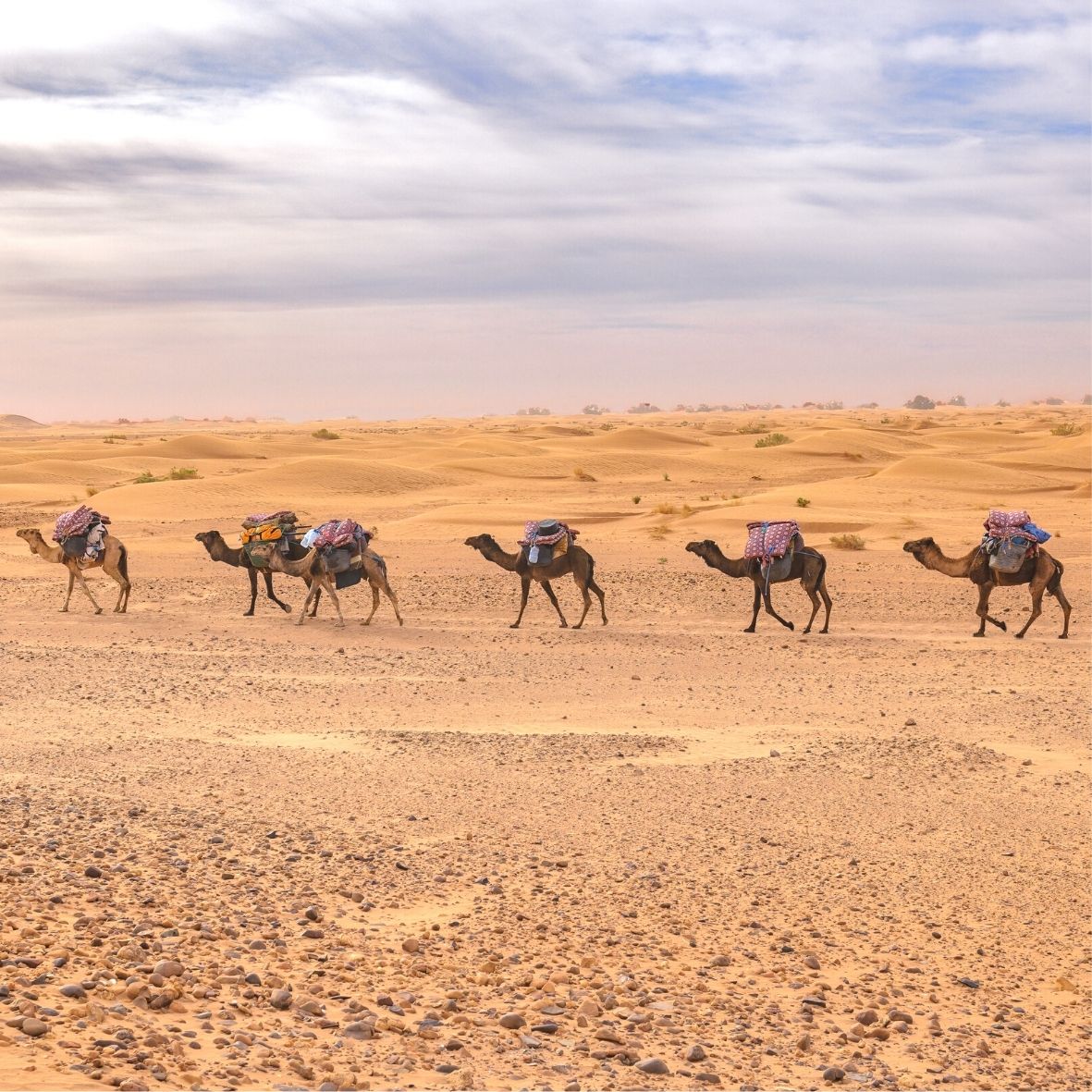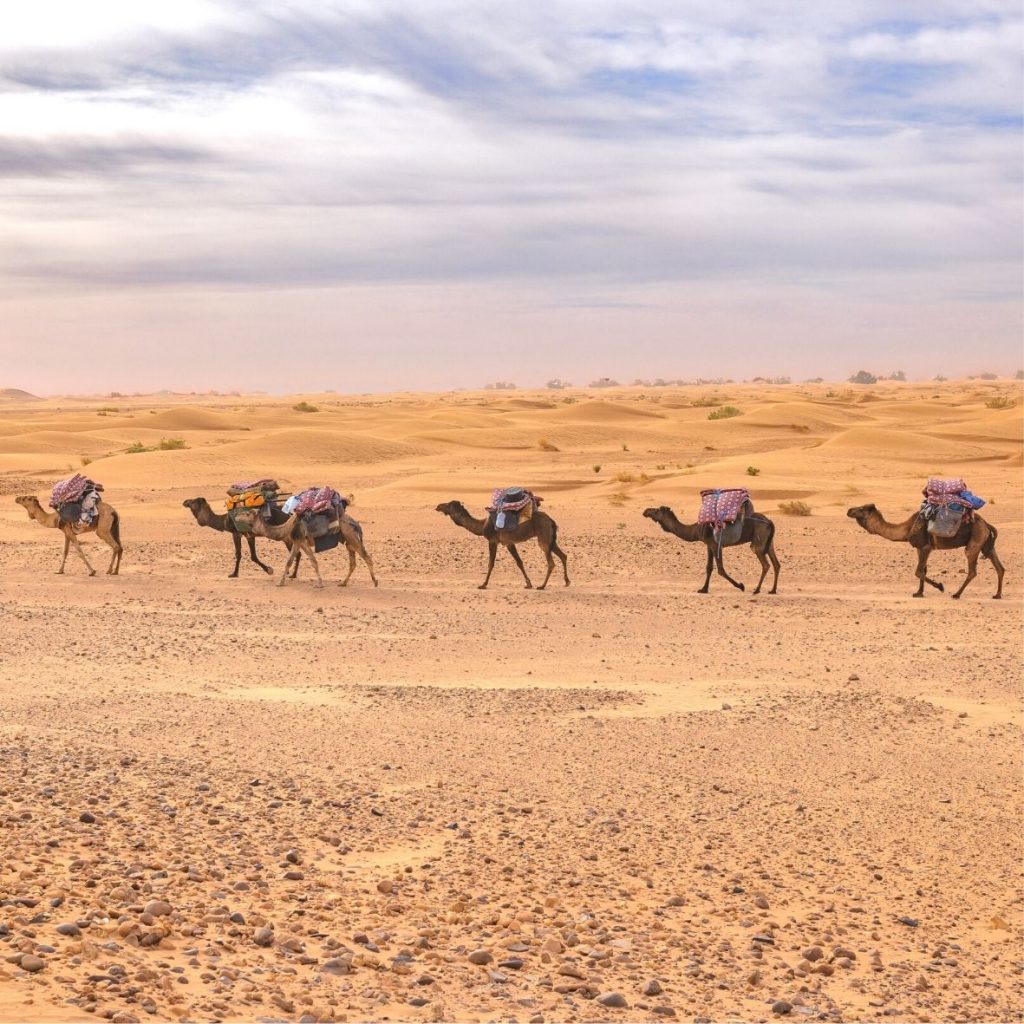 Tinfou Dunes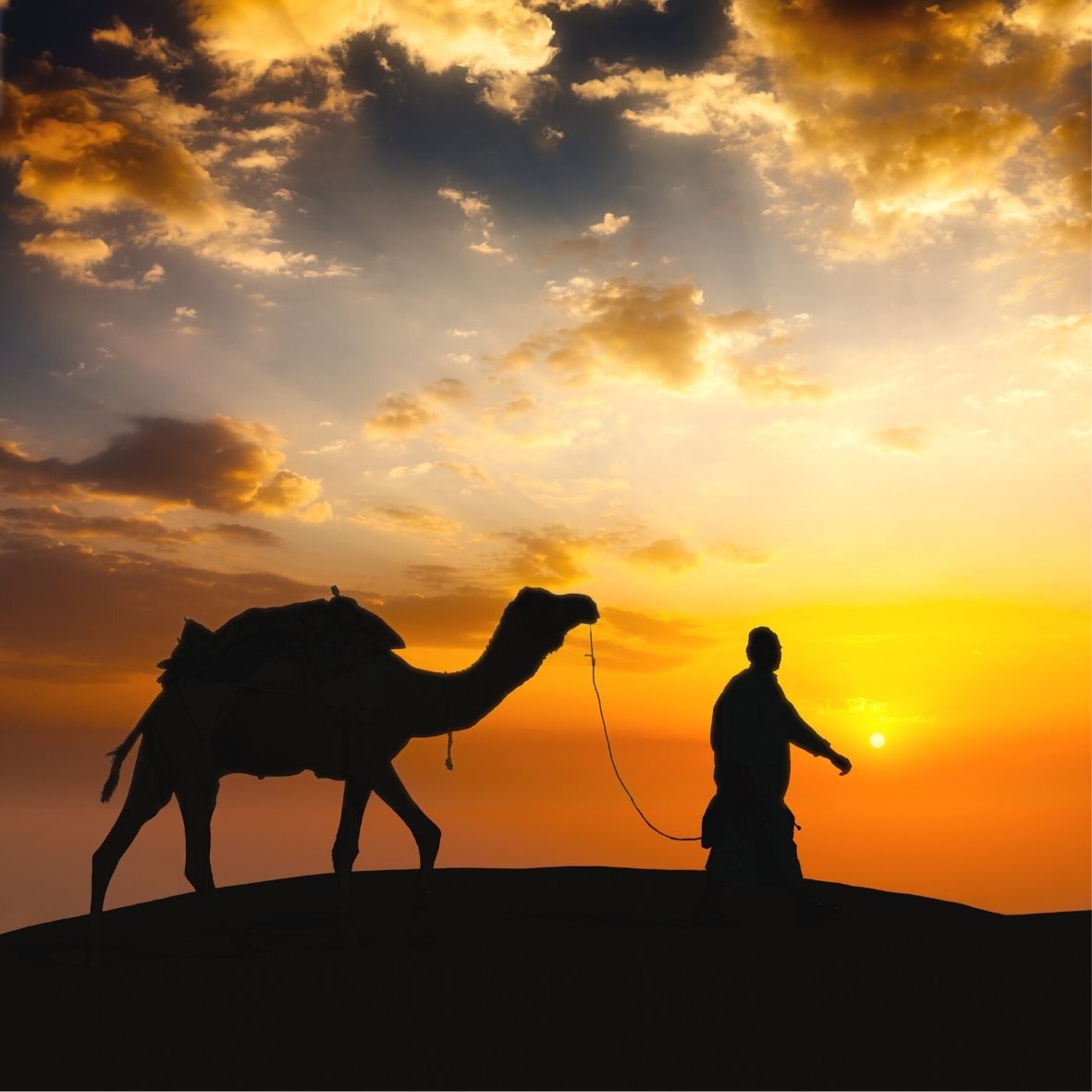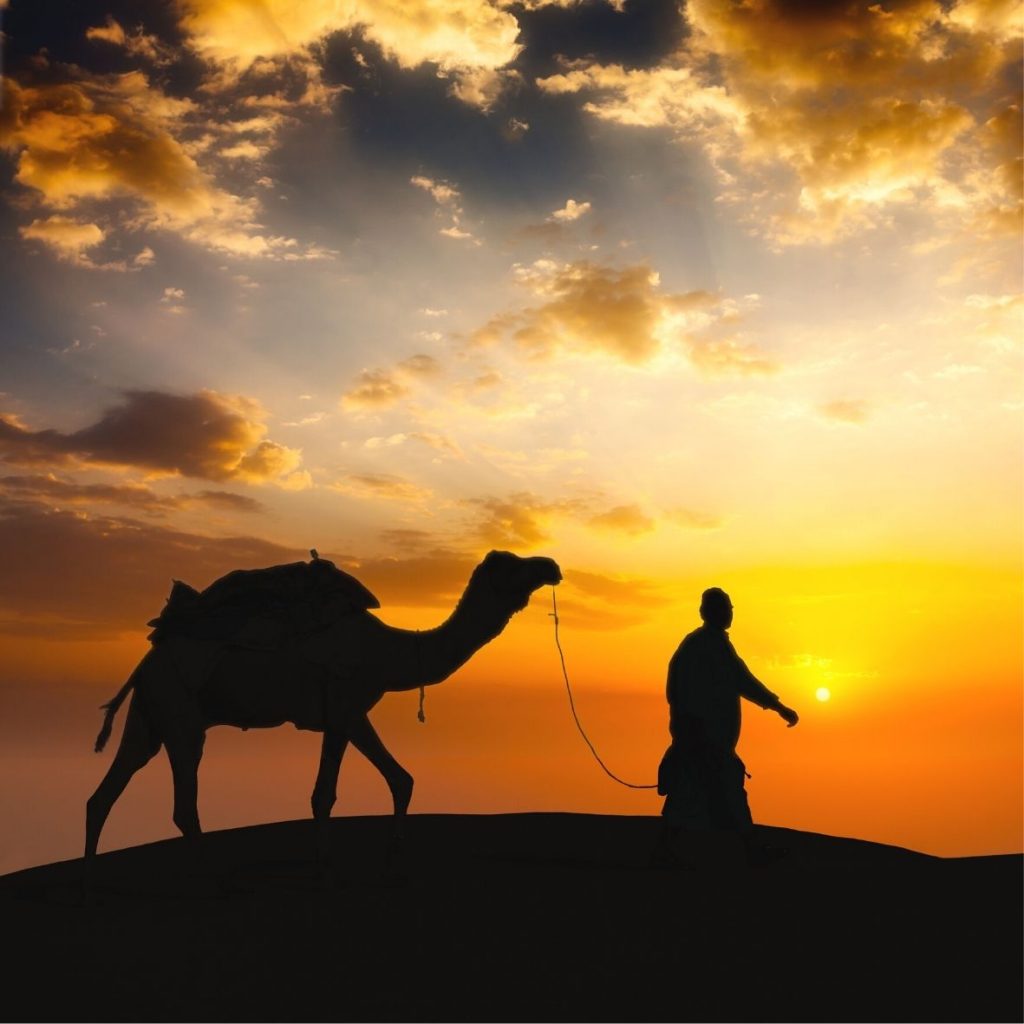 How much are camel rides in Merzouga?
Probably the most authentic of all Morocco camel trekking experiences are achieved in the Sahara Desert. Merzouga dunes are an exceptional place to get such an exciting activity.
Prices vary if they include an overnight stay in a desert camp, or if you just use the sunrise and sunset camel trip. The sunrise and sunset camel ride cost 15€ to 20€ per person. The overnight desert camp with dinner and breakfast usually costs between 35€ to 50€ for the standard camp, while the luxury desert camp option goes up until 80€ per person.
How long does it take the Merzouga camel trekking trip?
The Merzouga camel ride starts from your hotel at around 5 pm and involves shortstops in the dunes for photos. After getting a nice spot to get that perfect Sahara desert sunset, you continue further to your Morocco desert camp where upon arrival you will be served with a sweet mint tea and delicious cookies. You will be taken to your desert tent and will have dinner under the stars beside a memorable bonfire. Prepare yourself for some local music and dance. Be sure to have a good night's sleep, so that the next day you start early morning to go watch the sunrise in the dunes. After, you head back to the camp to have breakfast, just before another camel ride back to Merzouga. End of your camel ride Morocco journey around 9:30 am