Hello and welcome! I'm Omar and I'm going to write about the best waterfalls in Morocco.
Can I make you a question?
Do you associate Morocco with spectacular waterfalls?
Well, waterfalls in Morocco come out as a beautiful surprise to those who visit Morocco.
Many of those waterfalls are located inside one of the National parks in Morocco.
Morocco is a country of many amazing waterfalls.
This north-African country is embraced by mountains, covered by snow during the winter.
This type of alpine climate provides frequent rain and snow that produces large, strong rivers. As a result, it is home to a number of large and powerful Morocco waterfalls.
The best-known Moroccan waterfalls are Ouzoud falls, Chefchaouen waterfalls (at Akchour), Setti Fatma waterfalls, Ourika waterfalls, Ouarzazate waterfalls (at Tizgui), and Agadir waterfalls (at Paradise Valley).
Quick list follows:
Ouzoud Falls;
Akchour Falls;

Tirakaa Falls;

Oum er-Rbia Falls;
Attiq-Profond Falls;
Tizgui Falls;
Imouzzer Agadir Waterfall;
Imouzzer des Ida-Outanane Falls;
and Imlil Waterfall.
Are you planning your next holidays in Morocco?
Then don't forget to include us and book your trip to Morocco with us. You can also check out our day trips from Marrakech, an unforgettable tour from Marrakech to Fes, or a desert trip from Marrakech and explore this beautiful part of the world. On this page, we list the most famous waterfalls in Morocco.
Best Waterfalls in Morocco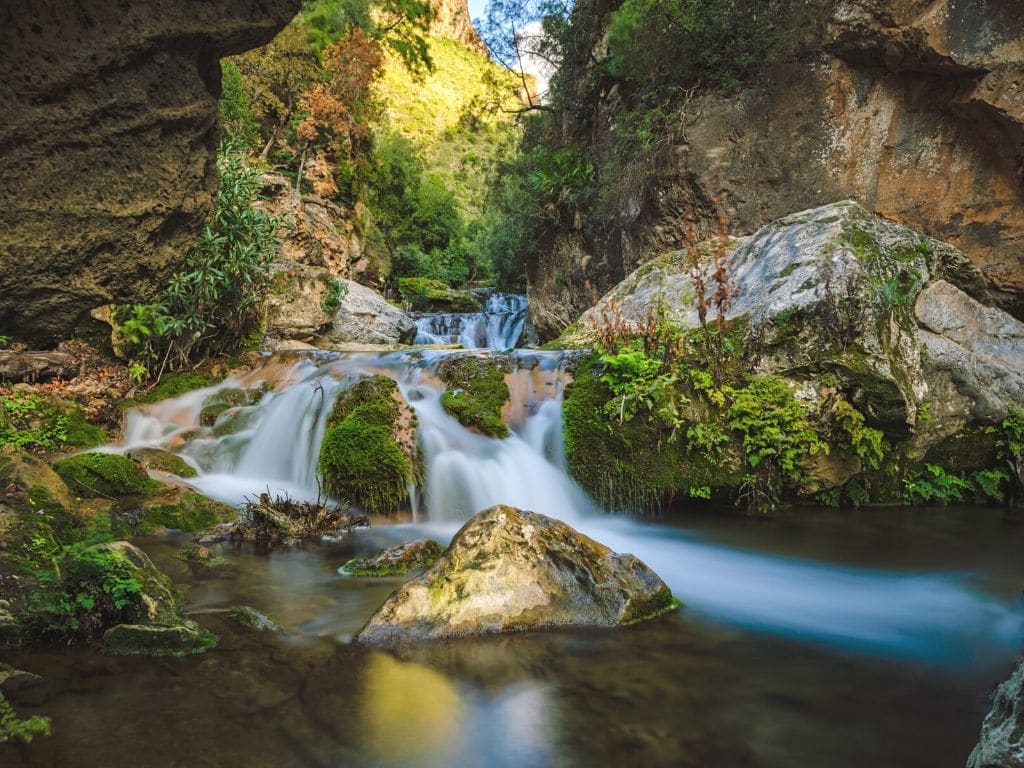 The most famous waterfalls in Morocco
Without a doubt, the most famous waterfalls in Morocco are the Ouzoud Falls.
Ouzoud Falls are the highest falls in North Africa with a total height of 110 meters.
These waterfalls are located near the village of Tanaghmeilt, about 150 km northeast of Marrakech.
Ouzoud Falls are a series of waterfalls that fall on the el-Abid River. At the top, there are a series of small water mills, while in the bottom you can get close to the flow through a marked trail.